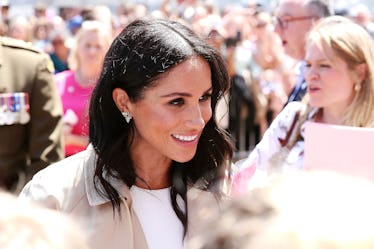 Meghan Markle Channels Her Mom-To-Be Vibes By Honoring Princess Diana In The Sweetest Way
Chris Jackson/Getty Images Entertainment/Getty Images
In the past week, we've been beyond blessed with lots of regal news and excitement, from Princess Eugenie's beautiful wedding to Meghan Markle's pregnancy announcement. Just when I thought it wasn't possible for the royal family to give me another moment to aww over, I see Meghan Markle wearing Princess Diana's jewelry in Australia, and my heart has officially melted. Seriously, nothing is sweeter than seeing Markle honor the spirit of Prince Harry's mother by keeping her memory present in their day-to-day lives, especially during Markle's first public outing after announcing her pregnancy announcement.
On Monday, October 15, Prince Harry and Meghan Markle let the rest of the world in on a secret they'd only told close friends and family (and the queen, natch) the previous week at Eugenie's royal wedding. Pretty much everyone was over the moon in regards to the announcement of their pregnancy, and it definitely had me on the lookout for any potential baby bump spottings during the couple's trip to Australia. The visit is stop number one on their first official royal tour, during which Prince Harry will launch the fourth Invictus Games in Sydney.
If you haven't already seen the pics, Meghan Markle did show the teeniest, tiniest hint of a baby bump in the white Karen Gee dress she donned:
Karen Gee is a fairly small, local Australian designer, and her website crashed almost immediately following the news that Meghan was wearing one of her pieces. Clearly, people pay a lot of attention to Markle's style, which is why many were also quick to notice the importance of her accessories.
Apparently, Markle's butterfly earrings belonged to Harry's mother, the late Princess Diana:
Seriously, this is so sweet. Markle's debut as a royal mom-to-be is a big deal, and it's very special that she chose to honor Harry's own mother during their appearance. Plus, Out of all of Diana's jewelry, the butterfly earrings were a perfect pick given the occasion of her first public outing after announcing her pregnancy.
Butterflies are often representative of hope and life, as well as the souls of those who have passed on, so perhaps Markle's two butterfly earrings represent Princess Diana and the new royal baby-to-be:
According to Cosmopolitan, while Markle didn't rock the matching butterfly necklace, she donned another of Princess Diana's pieces on her wrist, a gold statement bracelet:
It's the same bracelet Diana was photographed wearing in 1990, and I love that Markle mixed and matched Princess Di's pieces to accessorize in a way that still feels her own. Obviously, the royal family has access to all the jewels and gems imaginable, so for Markle to select pieces that belonged to Diana was no doubt a conscious choice.
I love that Prince Harry found someone so eager to honor his late mother! Princess Diana would definitely approve of Markle! I love love!
I'm definitely keeping my fingers crossed that Markle continues to channel Princess Diana throughout her pregnancy. This isn't the first time she's borrowed Di's jewelry, as she wore an aquamarine cocktail ring to her wedding reception, and has used her late mother-in-law's style as inspo in the past on many occasions. These Diana-inspired styles are always a hit, so here's hoping Markle's pregnancy lewks are just as major!