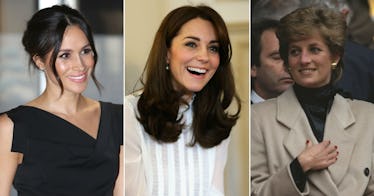 Meghan Markle, Kate Middleton, & Princess Diana's First Royal Appearances Were So Different
Chris Jackson - WPA Pool/Getty Images; Chris Jackson - WPA Pool/Getty Images; Pascal Rondeau/Allsport
There's no denying that the royal family has changed quite a lot over the last 40 years. In that time, the world has been introduced to Diana, Princess of Wales; Kate Middleton, Duchess of Cambridge; and Meghan Markle, Duchess of Sussex — three exceptional women who've set a perfect example for what it means to embody beauty, grace, and confidence. But each woman had to start somewhere and they did it on their own terms. In fact, Meghan Markle, Kate Middleton, & Princess Diana's first royal appearances showed women everywhere that you've got to come into your own at your own pace.
Given that so much has changed in the royal family in recent years, I've taken a look at these ladies' first royal appearances to see how they compare. Here are my findings:
Diana, Princess of Wales
True to form, Princess Diana's most iconic royal appearance actually came four months before she married Prince Charles of Wales on March 9, 1981, at Goldsmith's Hall. True to form, the event was a bit of a spectacle. Not only did she wear a more revealing dress than was expected for the times, but it was black, which was a color royals usually reserved for when they were in mourning. She pulled the night off flawlessly despite all the hubbub, though her later accounts of the night prove she was frightfully nervous about wearing the dress. You wouldn't know it, though. Diana wore her black taffeta with total confidence and smiled brightly for the cameras, to which I say, "You go, girl!" She even managed to snap a few pics with Grace, Princess consort of Monaco (who, like Duchess Meghan, was a famous actress named Grace Kelly before she married the Prince of Monaco).
Kate Middleton, Duchess of Cambridge
Kate had a much less formal first outing as a royal. Back in June 2011, just a month after she married Prince William, Duke of Cambridge, Kate and William attended the Investec Derby Festival. Despite being new to being a bonafide royal, Kate pulled off her first appearance flawlessly, looking beautiful in a cream-colored Reiss dress. The dress was a bit short for a royal — just above the knee. Most royals wear longer dresses, but Kate stuck to her own sense of style. A bold move!
Meghan Markle, Duchess of Sussex
Meghan Markle had the least amount of time to acclimate herself to being a royal, by far. Her very first official appearance as a royal came just days after her marriage to Prince Harry, Duke of Sussex. The event took place at Buckingham Palace where the royal family was hosting a garden party in celebration of Prince Charles' 70th birthday. Meghan wore a light-colored dress for the occasion — perfect for an outdoor event. She paired it with a hat and a classic clutch, as well as pantyhose, which are an essential according to royal protocol.
So, what's the difference among all of these appearances anyway?
Well, for starters, Meghan has been brought into the royal fold much more quickly than Diana, or even Kate. Unlike Kate and Meghan, who were both commoners before they married into the royal family, Princess Diana was a noble in her own right. As the daughter of John Spencer, 8th Earl Spencer, she held the title of Lady Diana before she married into the royal family. So she had at least a taste of what life as royalty entailed. While Kate was not English nobility, she had been dating Prince William since 2003 and had plenty of time to get accustomed to being a royal. Meghan was obviously thrust into the royal family much quicker, but they've embraced her, nonetheless, and made sure she's getting the support she needs, especially given how hectic royal life can be.
On top of all that, it seems like the royals have really eased up on fashion. While all the ladies sport very classic attire at all times, there would definitely be much less outrage over an off-the-shoulder black gown now than there was back in 1981!
One of the wonderful things about watching the royal family evolve is seeing how much they've modernized, even during the last few decades. By and large, it looks as though royal procedure has become a little more lax, allowing Kate and Meghan some of the freedoms that perhaps Princess Diana didn't have.