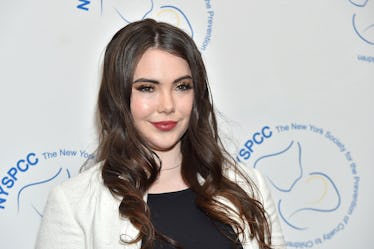 McKayla Maroney Made A Big Statement In Her First Public Appearance Since The Nassar Trial
Mike Coppola/Getty Images Entertainment/Getty Images
On Tuesday, April 17, Olympic gymnast McKayla Maroney made her first public appearance since coming forward as a victim of the abuse of disgraced former athletic doctor Larry Nassar. Maroney spoke at the New York Society for the Prevention of Cruelty to Children's (NYSPCC) annual spring luncheon at The Pierre Hotel in New York City, and she said she specifically wanted the event to be her first appearance so that it would have a powerful impact. Over the course of her conversation with NYSPCC executive director Mary Pulido, Maroney spoke about how she's been doing and what she hopes her public appearances will do, even though it is difficult for her to speak about the abuse.
"It was [really hard] to get ready to answer these questions when I really haven't wanted to. There's a lot that comes from healing from this. To heal takes true courage, and I'm really just taking it day by day," she said. "I at times question if my gymnastics career was really even worth it because of the stuff I'm dealing with now."
My team won gold medals in spite of USA Gymnastics, MSU, and the USOC. They don't build champions, they break them.
While the investigations about Nassar had been going on for some time, Maroney was one of the first household names to come forward as an abuse victim. In the midst of the #MeToo movement in October, Maroney wrote a post of her own, claiming that Nassar abused her over the course of years. "I was kind of looking for something that was going to give me enough courage to stand up, and ... so many people at that time were speaking up, and I finally felt like, 'This is my moment,'" she said on Tuesday.
Maroney's #MeToo statement was followed by public claims by her "Fierce Five" teammates Aly Raisman and Gabby Douglas that fall. In January, 2016 Olympian Simone Biles came forward, and Nassar had a highly publicized sentencing trial. At the sentencing trial, Maroney's teammate Jordyn Wieber read her own victim impact statement. Maroney did not appear in court herself, but she did have a statement read on her behalf.
Nassar was sentenced to a grand total of 140 to 310 years in jail on both 10 counts of criminal sexual conduct as well as federal child pornography charges. Over 250 women and girls claimed that Nassar abused them.
"I'm so proud and inspired by all the women who testified," Maroney said on Tuesday. "With everything that I went through, it was almost hard to believe that it happened to me. I almost had to hear it over and over and over again to really start to accept it. They definitely helped me with that, even though some of them were so much younger than me, they gave me that. I am thankful for all those women."
It's always three steps forward two steps back. The one thing gymnastics did teach me is when you fall, you gotta get back up.
Like many of her teammates have been doing, Maroney used her platform at the NYSPCC luncheon to criticize USA Gymnastics (USAG), the United States Olympic Committee (USOC), and Michigan State University (MSU), which all worked with Nassar, for allowing the abuse to happen over decades. "USA Gymnastics, MSU, USOC continued to look away to protect their reputations. All they cared about was money, medals, and it didn't seem like anything else. It was my biggest dream to compete for my country. They demanded excellence from me, but they couldn't give it to us," she said.
USAG, MSU, and the USOC have all had resignations among their management teams and have announced changes to prevent future abuse. Third-party investigators are also looking into the organizations. "My team won gold medals in spite of USA Gymnastics, MSU, and the USOC. They don't build champions, they break them," Maroney stated.
Outside of the Nassar case and the gymnastics world, Maroney hopes that her appearances can help influence larger changes to prevent child abuse, both in overall society and on specific laws. At the event, she spoke about New York state law, which stipulates that if abuse happens at a private school, that school is not required to report it to authorities — a legal oversight that Maroney said is "ridiculous and despicable." Maroney urged attendees to call their New York representatives to ask for them to act on that.
"At the end of the day, I wasn't listened to, cared about, or believed, and all of those things need to be weeded out of our society, because that's where things went wrong," Maroney said, speaking to what she hopes her influence will be.
Maroney said she was "super happy" to be speaking at the event, but admitted that healing is a long process. She said, "Sometimes, you're just left in the dust, and you have to pick up the pieces of your life. That has been the hardest part for me, but it's always three steps forward two steps back. The one thing gymnastics did teach me is when you fall, you gotta get back up, and I do know how to be a fighter."