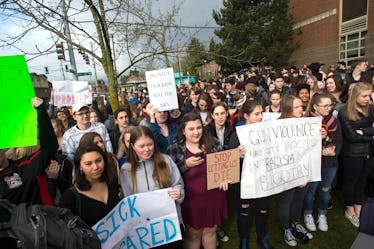 The March For Our Lives Speakers & Performers Are A Big Deal
Karen Ducey/Getty Images News/Getty Images
It's go time for students nationwide. In less than 24 hours, the March For Our Lives (MFOL) will kick off in Washington D.C., where thousands are expected to come together at the seat of power to demand change around gun violence. Meanwhile, other major rallies are happening across the country. As the nation gets ready for mass protest, the March For Our Lives D.C. speakers and performers are gearing up to send a message to the capital and beyond.
UPDATE: A tentative speaking program for the March For Our Lives has been released. Two organizers of the march, Alex Clavering & Kelly Rogers, will kick off the event. They will be followed by Sam Hendler, a Marjory Stoneman Douglas High School student. After Hender, the Broadway Kids Singing Group will perform "Shine," and then Emily Bonner will take the stage with an introduction. She will be followed by Meghan Bonner, another MSD student, and then Jon Restivo. After Restivo, Mary Ann Jacobs, a Sandy Hook librarian, will take the stage. Jackie Rowe Adams from Harlem SAVE will then speak, followed by Nza-Ari, a Wear Orange founder. Delaney Colaio, Co-Director and Co-Writer of We Go Higher, will follow, and then Nupol Kiazolu will speak. Chris Lane from Guns Down Life Up will then take the mic, followed by two original songs performed by Guns Down Life Up.
EARLIER: The official D.C. MFOL is being led by students of Marjory Stoneman Douglas High School (MSD), where one of the country's deadliest school shootings took place. The MFOL and the surrounding #NeverAgain movement began following the shooting in Parkland, Florida on Feb. 14, when a former student opened fire, claiming the lives of 17 staff and students. The Saturday march is one of three mass demonstrations students and their allies are putting on this spring in protest of gun violence.
Per a tweet by Senator Brian Schatz of Hawaii, the organizers are reserving the mic for young people. "One of the coolest things about it is that they are not letting any politicians or people over 21 speak," he tweeted, referring to the D.C. march. "There's something happening here." The movement, spearheaded by MSD shooting survivors, has emphasized the importance of being student-led.
"This is our fight now," activist and MSD student Emma González told MSNBC in February. "Because [Congress] messed it up so badly that you left it to the kids, and now it's our job, and you can't try to take it back from us." The speakers may be too young to drink alcohol, but many of them will be old enough to vote this coming November, something many of the student organizers have pointed out.
The MFOL is expected to take a place in history as one of the country's largest student protests of all time. Over 43,000 users confirmed and another 93,000 indicated interest in RSVP'ing to the official Facebook event. (The Los Angeles Facebook event has a combined 37,000 prospective attendees; that figure was 31,000 for the New York City event.)
A USA Today poll found that about one in three young adults nationwide plans to participate in the Saturday marches in one form or another, either by attending a march in person or supporting the marches online. As of writing, over 800 sibling marches are registered to take place around the country and world in solidarity.
Aside from inspiring speakers, a star-studded cast is lined up to perform at the D.C. MFOL, including Vic Mensa, Ariana Grande, Miley Cyrus, Demi Lovato, Jennifer Hudson, Lin Manuel-Miranda, and Ben Platt.
While speakers for the NYC march are still yet to be announced, one confirmed speaker is sure to be a memorable one: 16-year-old Sam Hendler, a student at MSD who survived the shooting.
The LA march looks like it's got a pretty promising cast, too. Among the performers announced are Rita Ora, Leona Lewis, Charlie Puth, Amy Schumer, Yara Shahidi, and Olivia Wilde. Joining the celebs will be MSD students and LA Mayor Eric Garcetti. "It is truly inspiring witnessing students from across the America coming together to insist that adults and lawmakers listen and respond to their concerns," said Ora, per a release obtained by Elite Daily.
Leona Lewis echoed the sentiment, saying, "I am in awe of the power of what the students across this country have been able to do to bring attention and create change with the March for Our Lives movement."
Given the lineup of speakers and performers, you definitely don't want to miss the powerful messages young people have for the nation's leadership this Saturday.