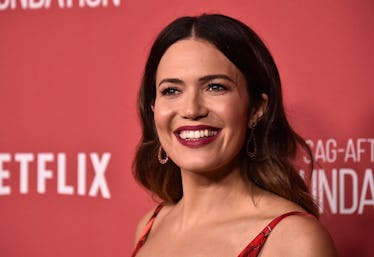 Mandy Moore's New Bangs Totally Changed Up Her Look, But They're Actually Not What You Think
Frazer Harrison/Getty Images Entertainment/Getty Images
As someone who has never taken a risk when it comes to hair, short haircuts and bangs are two of my deepest fears. While the recent lob trend has me ever so slowly getting over my fear of short hair, it's Mandy Moore's bangs at Joni Mitchell's 75th birthday concert that are helping me grow to love the idea of bangs in general. Moore showed up to the event with a faux new 'do, and TBH, I think it's one of her best looks to date. The natural beauty never goes too wild with her appearance, so even the smallest, subtlest tweaks seem like major changest to her look.
Moore attended the celebration on Nov. 7 in Los Angeles, and took to Instagram to post her ensemble for the night, which featured a very cool, very Joni-inspired crochet cardigan-style midi dress by Proenza Schouler. While the dress was straight fire, it was her hair that really grabbed everyone's attention, as her signature dark brown locks were accented by some thick front bangs.
"When the suggested attire is 'Boho Chic', you show up (and clip in some fake, feathery bangs for the occasion)," writes Moore on her Instagram caption. Scroll through to see more up-close shots:
Keep in mind, these aren't just plain old straight-across front bangs. These are curtain bangs, a style I haven't seen anyone rocking in a good minute. Mandy didn't turn to the scissors to achieve her look, as she admits in her caption that the bangs are faux, but they look so real, and she pulls them off effortlessly. Curtain bangs get their name from being reminiscent of a pair of curtains pulled open: they part down the middle in the center of the forehead, and are typically longer than traditional front bangs, which is convenient when it comes time to grow them back out and blend them into the rest of your hair.
Moore's hairstylist for the night, Ashley Streicher, was a huge fan of how the bangs turned out as well:
Keep in mind, this isn't Moore's first foray into the world of bangs. While she always keeps a muted look, she's tried out a variety of different shapes and styles of bangs over the years, and of course, pulled them all off effortlessly.
She's rocked curtain bangs in the past, as seen here with a framed, layered bob and aqua eye shadow:
And who could forget her perfectly parted side bangs from 2002? I definitely showed a similar photo to my hairstylist in my youth, and spoiler alert, the results didn't look half this good!
While I could go on and on about Moore's bangs trials and tribulations, her piecey, shaggy 2003 front bangs are some of my all-time faves:
Last but not least, can we please share an 'aww' moment for baby Mandy's permed bangs? I can't handle the cuteness:
Overall, I'm a fan of Moore's curtain bangs for three reasons. Firstly, she's kween of bangs, and even though this round was faux, I always think she looks her best when rocking them. Secondly, Moore clearly saw the need to get bangs trending for fall and winter, and I commend her for her successful attempt at making curtain bangs a thing again. Thirdly, the look really is so 1970s Joni Mitchell, so she really nailed the encouraged "Boho Chic" dress code. I'm excited to see how other celebs followed this theme to honor Mitchell's birthday, but until I see more posts, I'll be scouring the internet to find my own perfect pair of clip-in curtain bangs.