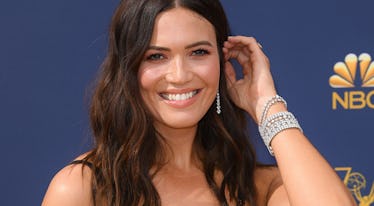 Mandy Moore Looked So Damn Sexy On The Emmy Awards Red Carpet & I'm Sweating
David Fisher/Shutterstock
The Emmy awards are finally here, and all the biggest stars in television are currently making their way down the red carpet. And while everyone pulls out their most amazing ensembles, Mandy Moore's 2018 Emmys look in particular was more than stunning. The This Is Us actress was a vision in liquid metal, rocking a black-and-gold gown that's giving me serious Katniss-Everdeen-meets-sex-kitten vibes. It might sound like an odd combo, but the look is pure fire, so stay with me on this one.
Moore's dress itself is a custom Rodarte piece, so it's basically all of the goals. The black-and-gold gown had sequins on the skirt and a splatterpaint-esque foiled top that shone as she made her way down the carpet, and the sexy deep V neckline was balanced out by a ladylike ankle-skimming hemline. She paired the statement-making ensemble with dark, middle-parted locks styled in effortless, beachy waves by Ashley Streicher for Garnier.
As for accessories, the 34-year-old opted for sparkling diamond earrings and a few blingy bracelets, along with some strappy black heels. She kept her makeup simple but chic, with a barely-there nude lip and a neutral brown smoky eye. When you're as gorgeous as Moore, there's no need to go wild with beauty trends — she's living, breathing proof that natural glam can be as sexy as the sharpest of cat eyes.
As for her manicure, Moore went with an overall delicate look with a pop of shine. Wearing an ultra pale pink over most of her nails, Moore went for the gold with a subtle line of coppery-gold glitter along her cuticles. If you, too, are drooling over that sparkle, you're in luck, because we got you covered: That gold sparkle is the result of Essie's new, unreleased collection, Concrete Glitters ($9 each, essie.com), specifically the shade "Can't Stop Her In The Copper." While we laypeople have to wait to get our hands on this collection, fret not, as it'll be available come October.
But while Moore looks absolutely radiant tonight, many This Is Us fans were quite disappointed after finding out that the actress, along with her co-stars Chrissy Metz and Justin Hartley, were all snubbed from this year's list of Emmy nominees. And of course, some took to Twitter to express their grievances with the digital world.
But those of us watching at home aren't the only ones who are upset. The show's creator Dan Fogelman opened up about the Emmys overlooking the actress — and her cast mate's — performances back in August.
"It's disappointing when Mandy and Justin and Chrissy don't get individually recognized after the work they've done — only because we've gotten sucked into this whirlex, where you can lose sight of the fact that no one saw this [success] coming, including the people who are working on it," Fogelman said during a panel at Paramount Studios, as reported by Variety.
In contrast, Milo Ventimiglia, who plays Jack Pearson on the series, decided to look at the silver lining. "The big win is an audience that's engaged in what we're all collectively doing together," he told Variety. "This is such a unique experience of love reflected amongst the group going outward to an audience that's engaged and giving it back. The real gold statue is the audience."
However, as far as Moore's red carpet fashion goes, at last year's awards, the actress' dress caused quite a stir as she posed for photos in a long, strapless black and white layered gown, with some on Twitter even joking that she looked like an Oreo cookie. "Got milk?" stylist Michelle Washington tweeted.
No matter how you feel about last year's dress — the truth is that even though this year Moore may not have gotten any Emmy award nominations, she's still winning all the awards in my book for her fire style.
Excuse me while I drink a glass of water.