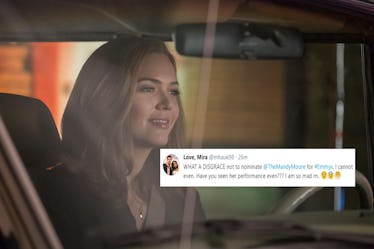 'This Is Us' Fans Are So Pissed Over Mandy Moore's Emmy Snub & I'm Here For It
NBC
We've managed to make it four months without any new This Is Us episodes, and my tear ducts have never been more grateful. However, reminding me of the scary hold this show has on my emotions, the tears were flowing this morning when nominations for the 70th Primetime Emmy Awards were announced. This Is Us stuck out last year as one of the few broadcast TV shows to earn recognition in the list of nominees, and this year was no different, but the show's leading lady was passed over yet again. The This Is Us Emmy nominations have fans pissed over Mandy Moore's snub.
In 2017, the first season of This Is Us earned 10 total Emmy nominations, with Gerald McRaney winning Outstanding Guest Actor in a Drama Series for his work as Dr. K. Sterling K. Brown became the first African-American winner in the Outstanding Lead Actor in a Drama category since Andre Braugher's victory in 1998. Both Brown and McRaney's acceptance speeches were tearjerkers, so check those out if you're in need of a good cry.
The majority of the show's nominations were in acting categories, but at the time, the travesty among This Is Us fans was that some members of the Pearson family were sadly snubbed from the roster of nominees. Mandy Moore and Justin Hartley were the only main cast members who weren't recognized back then, and although Hartley didn't have much to work with as Kevin in Season 1, I'll cry about the injustice of Moore being ignored for the scene of Rebecca talking to her unborn babies forever. How dare the Academy snub Mama Pearson like that, right?
After Moore's Rebecca made fans weep on a weekly basis in Season 2 and Hartley broke hearts portraying Kevin's struggles with addiction, the 2018 Emmy nominations were expected to finally reflect what fans already knew — the Pearson family are at their best when they're together. Sadly, that wasn't the case this year. Although she was expected to pop up in the Lead Actress in a Drama category for her heartbreaking portrayal of the newly widowed Rebecca, Moore was snubbed from the final list, angering fans who still haven't recovered from Rebecca's stunned reaction to Jack's body.
Moore being snubbed in 2017 may have been a small travesty for hardcore This Is Us fans, but the fact that her name wasn't announced this year is just plain upsetting. Please don't tell me it'll be Miguel and Rebecca's wedding that finally gets Moore her own nomination.
This wasn't the only absence of a Pearson on the nominee list. Although he was also considered as a serious contender for Supporting Actor in a Drama, Justin Hartley wasn't nominated for his work as Kevin. Chrissy Metz, who was nominated as a Supporting Actress in a Drama last year, also didn't make it onto the new list.
Apart from these disappointing snubs, This Is Us still emerged with a decent amount of nominations. It appears in the Best Drama Series category, and Milo Ventimiglia and Sterling K. Brown face off once again in the Lead Actor in a Drama series. At least we have Randall and Papa Pearson repping the fam on Emmys night, right? Meanwhile, I'll have to start brainstorming outlandish plots that could finally score Mandy Moore Emmy recognition. What else does this force of nature have to do?!
The 70th Primetime Emmy Awards air on NBC on Monday, Sept. 17, at 8 p.m. ET. Season 3 of This Is Us premieres on Tuesday, Sept. 25, at 9 p.m. ET.