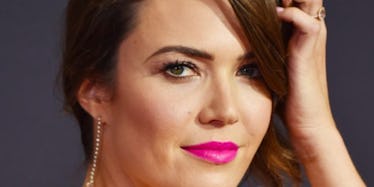 Mandy Moore's 2017 Emmys Dress Is Causing Serious Controversy On Twitter
Frazer Harrison/Getty Images
It is no secret that the Emmys is one of the most exciting and highly anticipated nights of the year in Hollywood. All of our fave A-listers gather to celebrate the year's best achievements in television and, while the accomplishments are certainly the most important parts of the night, it's so hard to ignore the fashion. That being said, in a very unsurprising turn of events, Mandy Moore's dress at the Emmys is flawless. As usual, Mandy looks gawwwwgeous. The This Is Us actress showed in a stunning, strapless, tiered, black and white Carolina Herrera gown, which she accented with custom Jennifer Meyer jewelry, very soft makeup, and a curled updo.
Looking at Mandy from head to toe, it's easy to see why fashion is always such a limelight stealer at major events like the Emmys. The stars know how to turn out glamorous looks, and when someone like Ms. Moore shows up looking like this, it's obvious to see why our jaws hit the floor so hard. If you've ever asked yourself, "How could Mandy Moore look any better?" You've got your answer: Put her in Carolina Herrera.
The dress is different from anything we've seen on the star in the past. Moore's This Is Us co-star Susan Kelechi Watson complimented Moore on her big, beautiful dress, to which the actress replied, "I told you it was a lot of dress!" Obviously, she wasn't lying.
Another show-stealing aspect of Mandy's look is her beautiful new engagement ring. That's right, after two years of dating, Mandy Moore and her new fiancé got engaged earlier this week, making the Emmys the perfect place for her to show off her gorgeous, round, brilliant diamond sparkler.
Naturally, as with any and all looks from events like this, the fashion critics of the internet are divided. Some people love it, some people hate it, and others just have jokes (to be fair, she does look like a delicious Double Stuf Oreo). One thing is for sure, though: Everyone is talking about it. Fans of the Emmys and of Mandy have taken to the internet's dumpster fire most opinionated outlet, Twitter, to express their feelings about Mandy's look and the reviews are polarized, to say the least.
One way or the other, whether you like the dress or not, you have to admit Mandy's natural beauty is much more captivating than any dress or bling she could have worn on the red carpet. More importantly, it's her raw talent that brought her to the Emmys in the first place, so — even if she showed up in jeans and a hoodie (yes, I just looked at what I'm wearing while writing this gripping think piece) — it's her work we should all focus on during the Emmys.
The actress is at the Emmys to support her fellow cast members and the crew from This Is Us, which is nominated in an astounding 11 categories including Outstanding Drama Series, Outstanding Guest Actor in a Drama Series, Outstanding Supporting Actress in a Drama Series, and Outstanding Lead Actor in a Drama Series. Of course, I'm sure it's a tense night for the entire cast since many of the show's actors — like Milo Ventimiglia and Sterling K. Brown — are competing against each other for the coveted Emmy statues; if one thing is certain, though, it's that the show will definitely be taking home some gold.
If you ask me, this will be the first of many Emmys nights that the This Is Us star will be attending. Good luck to the entire cast and crew; there's no better way to prepare for Season 2 than to win some of television's highest honors.