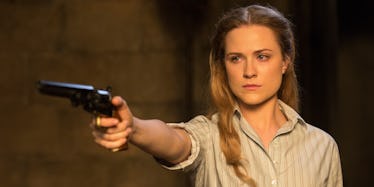 Here Are All The Emmy Nominations You Care About For The 2017 Award Show
HBO
The 2017 Emmy Award nominations have officially been announced, and now it's time to start speculating which show is going to take home the most awards... and also to start bingeing all the nominated shows we haven't seen yet.
Rather than waste your time by listing off the nominees in all 26 categories — most of which you don't care about and won't even be awarded on air — let's just get right to the important stuff.
Below are the 2017 Emmy Award nominees in each of the major categories, along with some notable info about probable frontrunners and other things to look out for when the 69th Emmy Awards airs on September 17.
Outstanding Drama Series
Better Call Saul
House of Cards
Stranger Things
The Crown
The Handmaid's Tale
This Is Us
Westworld
With Game of Thrones ineligible for nomination for the first time in seven years (it went into production too late this year), this is the category that everyone will be watching. The frontrunner is likely GoT's fellow HBO series Westworld, but other freshman breakouts like The Handmaid's Tale and Stranger Things could also give it a run for its money.
The surprising snub in the category came when The Leftovers didn't secure a nomination for its critically-acclaimed final season.
Outstanding Comedy Series
Atlanta
black-ish
Master Of None
Modern Family
Silicon Valley
Unbreakable Kimmy Schmidt
Veep
Not too many new names in this category. Auteur series like Atlanta and Master of None made a big splash this year, but if the Emmys behave like they have in past years, it'll be hard to knock perennial favorites Veep and Modern Family off of their pedestals.
 Outstanding Limited Series
Big Little Lies
Fargo
Feud
Genius
The Night Of
Always an interesting category, limited series actually had a pretty buzzy year in 2017 with new hits like The Night Of and Big Little Lies, and it will probably be between those two for the big win. Critics loved The Night Of, but Big Little Lies clearly became the mainstream standout.
Outstanding Lead Actor in a Drama Series
Sterling K. Brown (This Is Us)
Anthony Hopkins (Westworld)
Bob Odenkirk (Better Call Saul)
Matthew Rhys (The Americans)
Liev Scrieber (Ray Donovan)
Kevin Spacey (House of Cards)
Milo Ventimiglia (This Is Us)
Scoring double noms in this category, the This Is Us stars Sterling K. Brown and Milo Ventimiglia are clearly ones to watch out for. Probably, Brown more than Ventimiglia, who's earned more praise for his role. Then again, you should never count out Anthony Hopkins or the huge moment Westworld is having.
Outstanding Lead Actress in a Drama Series
Viola Davis (How to Get Away With Murder)
Claire Foy (The Crown)
Elisabeth Moss (The Handmaid's Tale)
Keri Russell (The Americans)
Evan Rachel Wood (Westworld)
Robin Wright (House of Cards)
It was a breakout season for Claire Underwood on House of Cards, but Robin Wright might be up against too many breakout stars to nab the Emmy. Expect Elisabeth Moss or Evan Rachel Wood to nab the award for their starring in two of the buzziest new series.
Outstanding Lead Actor in a Comedy Series
Donald Glover (Atlanta)
Zach Galifinakis (Baskets)
Anthony Anderson (black-ish)
Aziz Ansari (Master of None)
William H. Macy (Shameless)
Jeffrey Tambor (Transparent)
Sadly, Atlanta or Master of None might not take the Outstanding Comedy Series category, but their lead actors have a really good shot at the Outstanding Lead Actor in a Comedy Series award. This one is totally between Donald Glover and Aziz Ansari, although awards season favorite Jeffrey Tambor could win it again.
Outstanding Lead Actress in a Comedy Series
Pamela Adlon (Better Things)
Tracee Ellis Ross (black-ish)
Jane Fonda (Grace And Frankie)
Lily Tomlin (Grace And Frankie)
Allison Janney (Mom)
Ellie Kemper (Unbreakable Kimmy Schmidt)
Julia Louis-Dreyfus (Veep)
The only new face in this category is Pamela Adlon for Better Things, which might wind up with a surprise win if auteur comedies become the genre of the moment at this year's awards. The safest bet is for Julia Louis-Dreyfus to take the award home yet again for Veep.
Outstanding Supporting Actor in a Drama Series
Jonathan Banks (Better Call Saul)
Mandy Patinkin (Homeland)
Michael Kelly (House of Cards)
David Harbour (Stranger Things)
John Lithgow (The Crown)
Ron Cephas Jones (This Is Us)
Jeffrey Wright (Westworld)
This will be one of the tougher categories to predict since every supporting actor nominated really did have memorable, standout moments in their shows. I'd still probably bank on the popularity of Stranger Things and give it to David Harbour, though.
Outstanding Supporting Actress in a Drama Series
Uzo Aduba (Orange Is the New Black)
Millie Bobby Brown (Stranger Things)
Samira Wiley (The Handmaid's Tale)
Ann Dowd (The Handmaid's Tale)
Chrissy Metz (This Is Us)
Thandie Newton (Westworld)
With dual nominations, The Handmaid's Tale has a good chance to get recognized in this category, either due to Samira Wiley's rebellious handmaid or Ann Dowd's draconian disciplinarian. The other possible one to watch is Thandie Newton, who coolly stole every Westworld scene she was in.
Outstanding Supporting Actor in a Comedy Series
Louie Anderson (Baskets)
Ty Burrell (Modern Family)
Alec Baldwin (Saturday Night Live)
Tituss Burgess (Unbreakable Kimmy Schmidt)
Tony Hale (Veep)
Matt Walsh (Veep)
The Emmys have loved Modern Family and Veep for years, and the results of this category will likely reflect that. One interesting upset might be Alec Baldwin taking home the win, though, since his impersonation of Donald Trump on Saturday Night Live pretty much went viral every single week.
Outstanding Supporting Actress in a Comedy Series
Vanessa Bayer (Saturday Night Live)
Leslie Jones (Saturday Night Live)
Kate McKinnon (Saturday Night Live)
Kathryn Hahn (Transparent)
Judith Light (Transparent)
Anna Chlumsky (Veep)
Not a lot of variety here. With half the category stacked in its favor, this will likely be a win for Saturday Night Live. But which of its three breakouts will take home the trophy is anyone's guess. My money would be on Kate McKinnon, thanks to her Hillary Clinton impression being so huge.