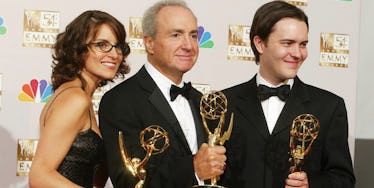 The 2 Shows That Tied For The Most 2017 Emmy Nominations Are So Different
Kevin Winter/Getty Images
Well, the 2017 Emmy Award nominations are officially out and it seems like the two shows with the most nominations are actually POLAR opposites.
That's right, tied for 22 nominations each, HBO's Westworld and NBC's Saturday Night Live are leading the pack for nominations this year.
Looking at the two shows side-by-side, it seems like you couldn't possibly find a common thread. Westworld, a science fiction thriller set in a Wild West-themed amusement park, is up against similar shows like Stranger Things and The Handmaid's Tale for golden statues in the category for "Outstanding Drama Series," as well as in all four major acting categories (congrats to Evan Rachel Wood, Anthony Hopkins, Jeffrey Wright, and Thandie Newton).
Saturday Night Live, a comedy powerhouse, on the other hand, is nominated against shows like Billy on The Street and Drunk History in the category for "Outstanding Variety Sketch Series," and has three of its main players, Kate McKinnon, Leslie Jones, and Vanessa Bayer, up against each other in the category for "Outstanding Supporting Actress In A Comedy."
Obviously, these are good shows to bet on Emmy night. With a combined 44 nominations, it seems pretty obvious there'll be at least a few winners among them.
It's hard to tell whether or not Westworld will win big in September, especially since this is the show's first round of Emmy nominations, but I wouldn't be surprised to see Saturday Night Live bring home a few awards since the late night show has won at least one Emmy every year for the past 10 years, including last year's winner for "Outstanding Supporting Actress In A Comedy," Kate McKinnon, who's nominated in the same category this year.
Lucky for these two shows, they won't have to compete against each other in any category, and, lucky for us, we won't have to decide which is more deserving of an award. All we have to do is sit back, relax, and make sure we're all caught up on both shows before the Emmys on September 17.