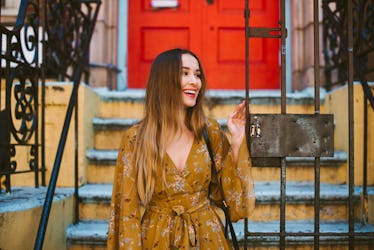 Living At Home Has Taught Me These 5 Things About Unconditional Love
Your relationships, favorite romantic comedies, and poetry books teach you a lot about love. There are the lessons on trust and the importance of communication, or how friendships can turn into something more. You've learned to always be yourself, and know that everything happens for a reason. But, some of the best pieces of advice and life lessons in the book come from your family. Surprisingly, living at home has taught me a lot about unconditional love — and I wouldn't trade these few months for the world.
Don't get me wrong: I've been frustrated plenty of times with my living situation. I loved having a space to call my own during my senior year of college. Not to mention, explaining to my parents the latest with Ariana Grande and Pete Davidson isn't exactly ideal. (Hello, college roommates? Yes, I miss you.) What I'm coming to realize, though, is how unique this period of my life is going to be.
This is the one time that I can truly learn about unconditional love. You know that thing you have for guacamole, even though it's extra, or your dog, even when he eats your homework? It's not necessarily easy to understand. But, sharing a space with your family will teach you all about the respect, patience, and trust it takes to get there. I've learned these five little pieces of wisdom, and now I'm passing them on to you.