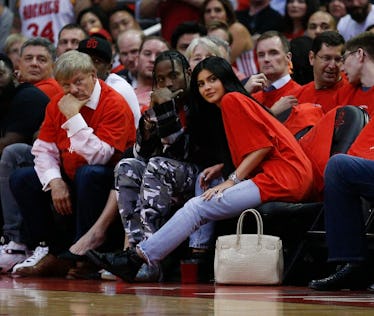 This Tiny Detail On Kylie Jenner's Nails Is An Adorable Shoutout To Travis Scott
Bob Levey/Getty Images Sport/Getty Images
Leave it to my girl Kylie to shout out her boo in the most subtle, chic ways. Even when she's promoting her cosmetics line and technically doing "work," her love for Travis Scott seeps through. In her latest Snapchat, fans can catch a glimpse of her fashionable fingernails while she's swatching her makeup, and peep two little letters painted on her middle and ring fingers. Kylie Jenner's "JW" nails are a tiny, tiny shoutout to Travis Scott, but have a big impact anyway.
As you guys know, Jenner made her triumphant return to social media in the months following the birth of her first daughter, Stormi. Mainly, she's promoting her Kylie Cosmetics brand, but we've seen some epic hairstyles and selfies come through, too. On Wednesday, April 18, she was technically showing off her new collaboration makeup line with her big sister Kourtney (aptly called "KOURT"), but really she was displaying her love for her baby's daddy, Scott.
In the snap, while Jenner is swatching her palettes, fans can see the letters "JW" emblazoned across her nails in silver script. Die-hards know Scott's real name is Jacques Webster, making this sweet little nail decoration all the more special.
(You guys think they do anything like this at my local nail salon?)
It's just very cool, isn't it?
This isn't the first time Jenner's shouted Jacques Webster out with his initials, either. Shortly after Stormi was born, Jenner snapped a picture of a tiny "JW" ring, sparking rumors that she and Scott were engaged. However, she quickly cleared the air, captioning a close up of the sparkler "Jacques Webster & Jordyn Woods. Real Ones, Ok..."
Sure, technically it was a love ring, but not an engagement ring.
Jenner's been alternating between posting makeup videos and sweet closeups of Stormi, who is truly the most beautiful baby I've ever seen. Jenner tends to always add some sort of filter around her wee-one's face, but this baby would look gorgeous no matter what kind of animal ears were superimposed on her face.
Apparently, Jenner snapped the above photo during a trip with Scott to his family's hometown, Houston. There, they attended a Houston Rockets basketball game, which gave fans some serious nostalgia. That's because Jenner and Scott's first public date was to a Houston Rockets game back in April of 2017.
My, my, my. What a difference a year makes.
Here they are in 2017.
And here they in 2018.
Don't you wonder what the people around them are thinking? "Oh, look. We're sitting next to KYLIE MOTHER-F-ING JENNER today, George." "Ya don't say, Diane."
The truth is, this new family seems to be doing amazing. In the weeks after Stormi's arrival, a source told E! News Scott and Jenner are loving being a family. The insider said,
Kylie and Travis are doing very well. Having Stormi has strengthened their relationship and elevated it to a new level... They are so happy with their little family and for all of the new love it has brought out between them.
Additionally, it sounds like Scott is a very "hands-on" father, which might be what prompted Jenner to give him her fingernail shout out. A different insider told E!,
He [Travis] can't get enough and wants to just hold her [Stormi] and stare at her. It's still surreal for him that they created this [child]. He's working a lot but [is] spending time with Kylie and Stormi whenever he isn't. He misses them so much when he's gone and wants to make sure he doesn't miss anything.
I feel the same, Travis. I don't want to miss ANYTHING.
Except for right now. I'm making just a quick little appointment at my local nail salon...
Check out the entire Gen Why series and other videos on Facebook and the Bustle app across Apple TV, Roku, and Amazon Fire TV.