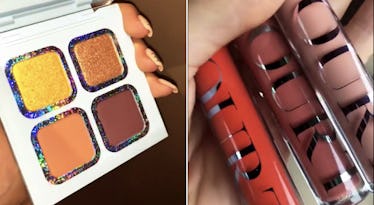 Kylie Jenner Teased All The Products In The Kourt x Kylie Collab & OMG, I Want It All
Kylie Jenner/Instagram
I've said it once, and I'll say it again: It's the Kardashian-Jenners' world, and we're all just living in it. Kylie Cosmetics has already taken the entire beauty industry by storm with every single Lip Kit, Kylighter, and Kyshadow Palette released, and I think it's safe to assume the brand's latest collab will do the same. After much teasing, Kylie Jenner has officially released even more info about when the Kourt x Kylie collaboration for Kylie Cosmetics drops and pictures galore. And trust me, once you see these photos, you're gonna want to get your hands on this line right TF now.
On Friday, April 13, both Kylie and Kourtney sent their fans into a frenzy when they first confirmed the collaboration was officially happening on their respective social media pages. That night, Kourtney had taken to Instagram to reveal a photo featuring a silver-accented liquid lipstick tube with "KOURT" printed in silver capital letters. Kylie, on the other hand, took to Snapchat to reveal a sneak peek of some of the other products in the line, which, at the time, seemed to be eyeshadow palettes with pastel-colored packaging and different shades of lipstick. All we knew with these two posts was that something was coming soon.
On Wednesday evening, April 18, however, Kylie quenched all of our thirst for more intel on this collab by posting even more photos, videos, and demos of allllllllll the products in the Kourt x Kylie line on her Instagram Story. She also confirmed what products will be dropping and a launch date for the line in an Instagram post for Kourtney's birthday. She captioned the post,
HAPPY BIRTHDAY TO THE QUEEN! 👑 so excited to announce the KOURT X KYLIE collaboration. this collection gives me so much lifeeeee! 3 mini palettes & 3 of Kourtney's signature lippies launching 4/24! collaborating with you was so much fun! I love you! Check out my stories to see our collab @kyliecosmetics ✨ p.s. we are both wearing one of her new shades RAD in this pic!
Yes, the Kourt x Kylie collab will feature three small, four-pan eyeshadow palettes, packaged in pastel blue, pink, and green and with iridescent accents, and three velvet lipsticks that, according to Kylie, are "inspired by three of her [Kourtney's] fav go-to shades."
Beautiful Blue
The blue Kourt eyeshadow palette features gold, bronze, and brown shades — both matte and shimmer. While we don't know the names of every shade in this palette, Kylie did swatch the top left bright gold hue and revealed its name, "1944."
Pretty In Pink
The pink Kourt palette features three shimmer hues — all seemingly in the champagne color family — as well as one matte peachy-copper color. Again, Kylie swatched the bottom right color of this palette, which is called "Gluten Free." Aptly named, considering Kourtney has been open about making her household gluten-free.
Gimme That Green
The green Kourt palette features a set of four colors that are a bit more daring compared to the other two palettes. The set includes two matte colors, one of which is a bright red called "Ma$e" (perhaps a tribute to Kourtney's 8-year-old son Mason), and two shimmer colors, one being a darker, metallic teal named "Matcha."
After teasing all of us enough with these eyeshadows that I still can't have yet (rude), Kylie unveiled the official names and colors of the three velvet lipsticks in the Kourt collection. There's "French Kiss," a lighter, pinkish nude; "Minnie," a deeper pink, and "Rad," a bright red-orange.
Surprisingly enough, this is actually Kylie's first official beauty collab with her sister Kourtney. While Kylie did name one of her Lip Kits after Kourtney ("Kourt K"), Kylie Cosmetics introduced full collections in collaboration with both Kim and Khloé in the past. Though Kendall hasn't necessarily joined forces with Kylie on the beauty front, the two do work together with their Kendall + Kylie clothing and accessories line. Now, however, it's Kourtney's time to shine. (Don't mind me, just waiting for my own time to shine. @ Kylie, please hit me up. Thanks.)
Come Wednesday, April 24, you'll be able to head over to KylieCosmetics.com to throw all of your money at Kylie in exchange for these dope items. While no prices on any of the items have been confirmed just yet, nor has a time for the launch, keep your eyes peeled on all the Kardashian-Jenner social media for any clues. Godspeed, fam.