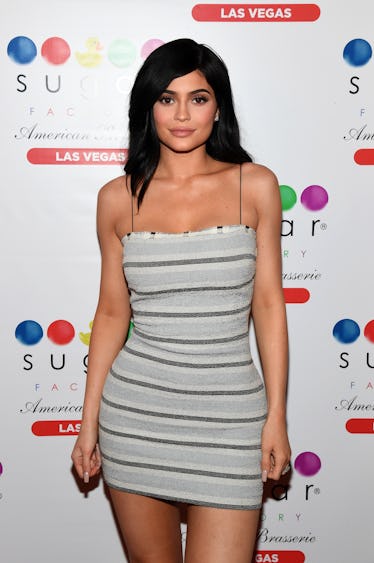 Kylie Jenner Is Collaborating With One Of Her Sisters & It Already Looks So Cool
Ethan Miller/Getty Images Entertainment/Getty Images
Thus far, Kylie Jenner has collaborated with three of her sisters in massive ways: with Kendall on their fashion brand Kendall + Kylie; with Kim on the KKW Beauty by Kylie Cosmetics nude glosses; and with Khloe on the Koko lip color line. But is Kourtney Kardashian x Kylie Cosmetics happening? The so-obvious collaboration is already on its way, proving that when it comes to forming high grossing business partnerships, Jenner leaves no sister behind. (Can I have a younger sister with a company valued at over $40 million, please?)
Although all four of the Kardashian sisters have started brands of their own (Khloe is also a co-founder of the denim label Good American) or collaborated in big ways with existing brands (Kourtney worked with online retailer PrettyLittleThing on a line of sequin clothing last year), it's undeniable that Kylie Cosmetics has been, to date, the most successful entrepreneurial endeavor of them all. Although KKW Beauty may be well on its way to giving the company a run for its money, Kylie told WWD she isn't worried about her older sister's empire: "She's like almost 20 years older than me. I feel like my makeup is definitely more young, fun. And it's just different."
In light of her company's success, it only makes sense that Jenner would want to share the wealth with all of her sisters, with each of whom she is incredibly tight. Not only that, but each sister has their own fan following and style, so by involving each of them with Kylie Cosmetics, Jenner will be expanding her customer base. It's a smart move on both a personal and professional level.
Rumors that a KK x KJ collaboration first started swirling in December last year when a Keeping Up With the Kardashian superfan made an incredibly impressive spot during an episode of the show. She saw what appeared to be a tube of clear lip gloss in Kylie Cosmetics packaging with Kourtney's name on it sitting on a table next to other tubes of lip product. How the fan could have possibly noticed it I do not know, but she was right on the money when she speculated that a collaboration was on its way.
Yesterday, Kardashian posted an image to her Instagram story confirming that she would indeed be working with her littlest sister on a beauty product. The photo shows a list of variously styled "Kourt" logo options, as well as her name written on a Kylie Cosmetics branded sticky note. Although the exact type of product(s) they will be collaborating was not mentioned or shown in the photo, the clear gloss spotted on KUWTK will be part of the collaboration.
If I were to guess, I'd say that the entire Kourtney x Kylie collection might stick to a natural and subtle theme (but will they be gluten-free?). Kourtney's everyday look is usually much more pared down than those of Kylie, Kim, and Khloe, so it would make sense for her makeup collaboration to reflect her IRL beauty preferences. As a fan of minimal makeup myself, this might be a Kylie Cosmetics collection I'd fangirl over.
Unless, that is, its prices are as similarly outrageous as those of Jenner's latest release. Her Silver Series makeup brush set received quite the backlash thanks to its considerable price tag: its large powder brush alone costs a hefty $48, while the entire set of brushes will run you $360. Um, what? Sources have said that Kris Jenner was behind the inflated cost, so hopefully Kylie and Kourtney will be in charge of pricing their collaboration.
No word is out about when the collaboration will drop, but we'll be keeping our eyes peeled and fixed on Kardashian's and Jenner's social media accounts.