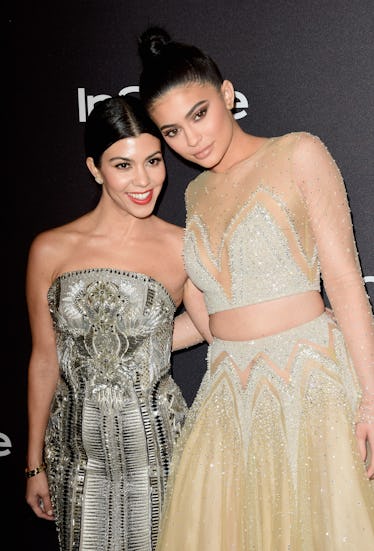 Kylie Jenner & Kourtney Kardashian's Lip Kit Collaboration Is Officially Coming
Frazer Harrison/Getty Images Entertainment/Getty Images
Guys, it's finally happening. Kylie Jenner and her big sis are officially releasing a lipgloss collaboration, and I'm beyond excited about it. Both Jenner and Kourtney Kardashian posted sneak peaks of their upcoming product to social media on Friday, April 13. Now, you might be wondering when the Kourt x Kylie Lip Kit will be available. Join the club. Apparently, it's "coming."
Based off Jenner's Snapchat Story from Friday night, the sisterly collaboration is on its way. The fashion guru shared videos of herself holding pastel-colored boxes with "Kourt" plastered across them in sparkly, capitalized letters. Jenner's "Kylie Cosmetics" logo is written on the boxes underneath her sister's name, which further confirms their collaboration.
Jenner didn't open the boxes in her Snapchat Story (we know she's all about mystery), but she did write something that gives us a tiny hint about when the lipgloss will be for sale. In her second Snapchat Story featuring the Kourt x Kylie boxes, she wrote "We got something special coming," along with an emoji smiling with its tongue out. That's literally it. Sure, it'd be a little more satisfying to know an exact date the sisters plan on releasing their collab, but I guess this will do for now.
Jenner isn't the only one to leave fans hanging without official release information. Kourtney Kardashian posted a teaser of the product to Instagram on Friday night, and it also lacks details about when fans can start buying the glosses. However, the caption does contain an emoji that says "soon," so at least that's something. If you combine both Jenner and Kardashian's comments on the collaboration so far, you can definitely say that the Kourt x Kylie Lip Kits are "coming soon." That's exciting!
Even though Kardashian's IG lacks some vital information about the product's release date, she does give fans a look at one of her lipgloss bottles from the Kylie Cosmetics collaboration. The bottle says "Kourt" in the same font that's on the boxes from Jenner's Snapchat Story, and it's orangey-red in color. TBH, it's the perfect shade for a warm spring day — and if I could buy it now, I would.
Luckily, that isn't the only color you'll see so far from the Kourt x Kylie collection. After showing off pretty little boxes in her Snapchat Story, Jenner actually revealed a few more lipgloss shades from the collab. The colors she shared are warm reds and pinks (again, perfect for a sunny spring day). As the mysterious woman she is, Jenner didn't reveal any additional shades after showing a select few on Snapchat, so you'll have to keep your eyes open for more sneak peeks.
Believe it or not, this is Jenner's first collaboration with her sister, Kourtney. In the past, she's collaborated with Kendall Jenner on their Kendall + Kylie fashion brand, and with Kim Kardashian on their KKW Beauty by Kylie Cosmetics nude glosses. Jenner has even collaborated with Khloe Kardashian on their Koko lip color line. Now, it's Kourtney's time to shine (literally). Apparently, no Kardashian sister will be left without a Kylie collaboration.
News about Jenner and Kardashian's Kourt x Kylie collection comes as no surprise to super fans, though. In fact, some of them saw it coming before it was even announced. Back in December 2017, a fan watching Keeping Up With the Kardashians noticed a tiny detail in the show that basically gave the collaboration away. During an episode, there appeared to be a clear bottle of Kylie Cosmetics lip gloss with Kourtney's name on it displayed on a table next to Jenner's products. Needless to say, I'm happy we don't have to look for clues like this anymore to confirm the upcoming collab.
While a set release date for Kourt x Kylie hasn't been announced yet, I can confidently say that it's coming soon. Keep your eyes open and get our lips ready, ya'll.