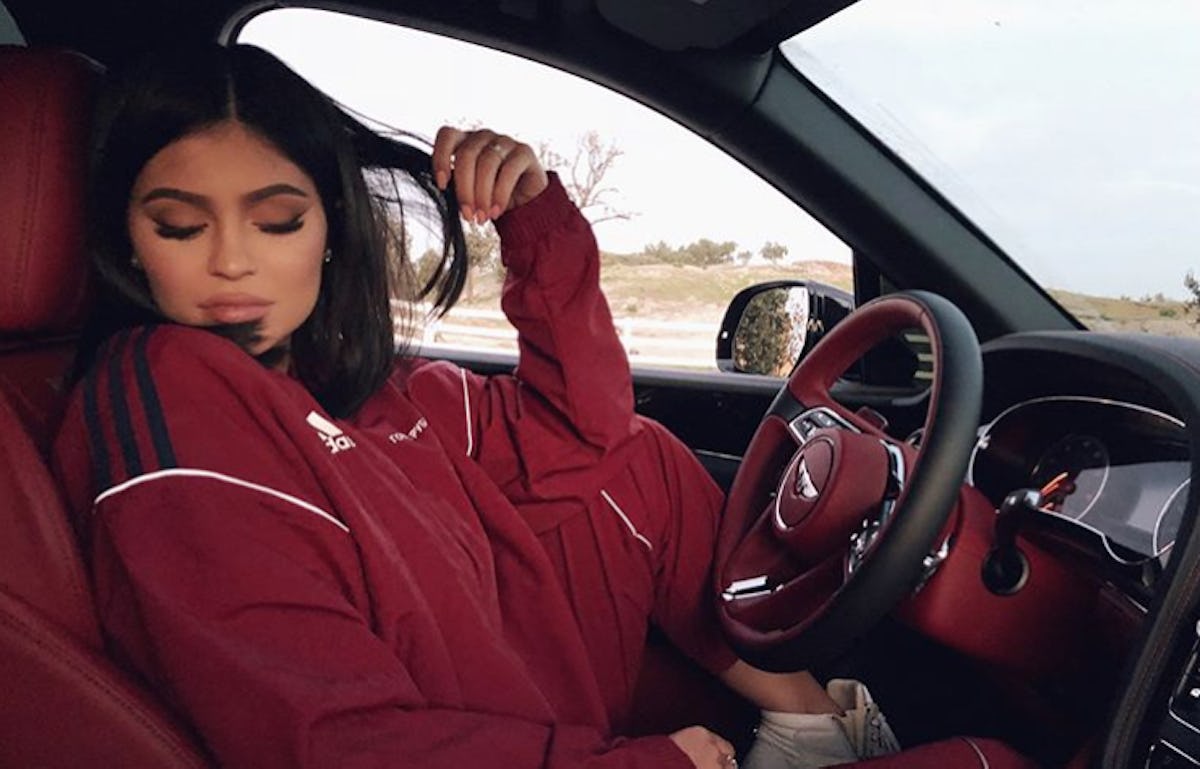 Kylie Jenner Is Wearing A Gorgeous New Ring & It Actually Has The Cutest Meaning Ever
Instagram/Kylie Jenner
I know you're probably wondering if Kylie Jenner and Travis Scott are going to get married, and I am too, but today is not that day. Fans perked up after Jenner snapped a photo of a mysterious ring on a certain finger, but the reality TV star was quick to explain it was not what we all thought it might be. The meaning of Kylie Jenner's ring does have something to do with Scott, but it also has something to do with her bestie, Jordyn Woods. For the most part, it's just a sparkly (expensive) token there to remind her of two of her favorite people.
The ring in question is a delicate little sparkler with the letters "JW" glimmering on top. Jenner showed off the detail in a Snapchat picture showing her hand on a steering wheel, (classic Kylie), with the ring specifically placed on her ring finger. Die-hards might know Travis Scott's real name is actually Jacques Webster, causing some of us (me) to think maybe this is a placeholder engagement ring, or even a promise ring. However, Jenner explained the "JW" in her Snapchat caption, writing, "Jacques Webster & Jordyn Woods. Real Ones, Ok..."
Ugh, FINE, Kylie.
According to E! News, jewelry designer XIV Karats confirmed on Instagram they're behind the tiny little masterpiece, though their account is private. The company says the ring is available in 14kt yellow, white and rose gold and comes in white or black diamonds. Purchasing one will run you anywhere between $400 and $450.
Fans have been basking in Jenner's glorious return to social media and eating up every post and picture she shares with us. Only recently did she post the first photo of her holding new baby Stormi, and later she snapped a close up of her daughter's adorable cheeks. Fans also caught a quick glimpse of Stormi's nursery, which is totally decorated in butterflies, obvi.
Scott also got in on the baby social media action, sharing a photo of sweet Stormi's face with the caption, "Our little rager !!!"
One source told E! News Jenner and Scott are loving being a little family. The insider shared,
Kylie and Travis are doing very well. Having Stormi has strengthened their relationship and elevated it to a new level... They are so happy with their little family and for all of the new love it has brought out between them.
A different source close to the family also confirmed to E! News that Jenner is doing great as a new mom and adapting to her new lifestyle fairly easily. Of course, her family is there to help, too. The source said,
[Kylie] has a baby nurse that's been helping out and that gives her little breaks and some guidance. Her sisters have been very helpful and a wealth of knowledge when it comes to feeding and fussiness. They talk all the time and are comparing notes on how to get Stormi on a feeding and sleeping schedule.
Another insider also told E! News,
It's been a big adjustment for Kylie, but she's loving being a mom and watching all of the little things that Stormi is doing each day. She's exhausted and emotional, but she's also completely in love.
Not that I know anything about being a mother, but that sounds about right. As for Scott, the source added,
He [Travis] can't get enough and wants to just hold her [Stormi] and stare at her. It's still surreal for him that they created this [child]. He's working a lot but [is] spending time with Kylie and Stormi whenever he isn't. He misses them so much when he's gone and wants to make sure he doesn't miss anything.
I can't be happier for everyone involved here. If you need me, I'll be furiously googling knockoff initial rings and finding an Uber driver that will let me stage a photo on his steering wheel.
Check out the entire Gen Why series and other videos on Facebook and the Bustle app across Apple TV, Roku, and Amazon Fire TV.