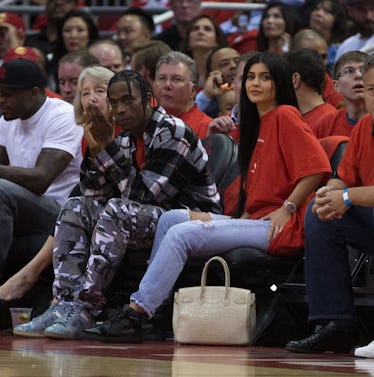 There Are New Details On Whether Kylie Jenner & Travis Scott Are Getting Engaged
Bob Levey/Getty Images Sport/Getty Images
Another day, another piece of Kylie Jenner drama. First, flurries of rumors hinted at a pregnancy with her boyfriend, Travis Scott. Next, there was speculation that Jenner was reportedly carrying a child as Kim K's surrogate. Then, people thought that the lip kit mogul was going into labor. Will it ever end? LOL, nope! Because now, word on the street is that Kylie Jenner and Travis Scott will be getting hitched. But let's all just calm down for a second, because it seems like Kylie Jenner and Travis Scott aren't getting engaged, so please, nation: Slow your roll.
According to People, a source close to Kylie Jenner said that the two aren't rushing to the altar just yet. The source said,
There are no plans for them to get married or even engaged.
Elite Daily reached out to both Kylie Jenner and Travis Scott's teams for confirmation on the report, but did not hear back by the time of publication.
It was thought that Jenner, who has basically been all but MIA on social media and rarely seen out in public, was flashing some bling back in November of 2017 on her way to her sister Kim Kardashian's baby shower. The video seems kind of pointless, with Jenner just showing the dashboard to her car (with a very pink interior), until she moved her left hand in juuust a way that shows viewers that she's sporting a heavy accessory on her ring finger:
But you know Kylie. Never one to simply come out and tell us the truth, but rather leave us all anxiously waiting for some real answers.
Kylie, do you think this is a game? DO YOU THINK THIS IS FUNNY?
:the universe sobs while Kylie laughs maniacally at us all:
All of this started back in September when rumors started going around that Jenner was reportedly pregnant. Elite Daily reached out to Jenner's team for confirmation but did not hear back by the time of publication. The world was torn: Was she or wasn't she? But the evidence kept mounting, making many believe that YUP, girl has a bun in the oven. Kylie's social media accounts were chock-full of suspicious posts, leading her fans to think that she was leaving something of a breadcrumb trail that would ultimately lead to the confirmation of her pregnancy. But sorry world, that hasn't happened yet.
Although we've yet to see any form of confirmation from Jenner (or anyone else in the Kardashian family, for that matter), we have been given just a teeny, tiny klue that the KUWTK star is expecting, and it came in the form of a very shaky and far-away shot video.
The video, shot by TMZ, shows Jenner with her bestie Jordyn Woods and her mom, Kris Jenner, walking through some type of construction zone. As Jenner, dressed in baggy clothes, gets into the car, it seems to show that she has a baby bump.
While some fans were shook, convinced that this is proof the star is pregnant, others weren't so sure. I mean, she's wearing black, baggy clothes, and is getting into a black car, so everything sort of just blends together. At this point, there's really no way to prove it one way or the other, so it's pretty much back to the drawing board, folks.
So let's face it: Do we know whether or not Kylie Jenner and Travis Scott are expecting a child? No. Do we have evidence that the two are totally tying the knot? Nope. Do we think we're getting confirmation about anything revolving around Kylie Jenner anytime soon? Nuh-uh.
Instead of rolling our eyes, let's all just carry on with our lives as best we can.
Who am I kidding? There's no way we can carry on with anything important until we get at least something that clears up these rumors.
Guess it's time to clear my schedule for the next few months.