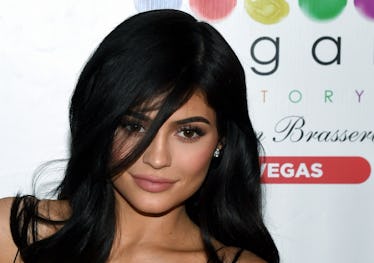 Kylie Jenner's Latest Accessory Might Prove She & Travis Scott Are Engaged
Ethan Miller/Getty Images Entertainment/Getty Images
The ever-so-coy baby Jenner sister has kept fans on the edge of their seats by refusing to confirm pregnancy rumors... while simultaneously using every possible avenue on social media to hint that she's expecting. To add to everyone's curiosity, she decided to mess with minds thanks to the help of one shiny accessory. Kylie Jenner's new ring might mean she's engaged, and obviously this little bit of bling totally stole the spotlight from big sis Kim Kardashian, who just celebrated her baby shower on Nov. 11.
Kylie took to Snapchat to post a photo driving her decked-out Bentley while en route to her sister's decadent affair, which seems to be business as usual for the young reality starlet. However, her pink dashboard and pink nails were accompanied by a diamond ring on that finger. She might have been making her way to her Kim's cherry blossom baby shower, but this not-so-subtle statement caused huge waves, and understandably so.
No female posts a photo of her left hand on social media unless she has something to say about a piece of jewelry on her ring finger. So what is the 20-year-old trying to tell the world? Is this an important symbol of her relationship with 25-year-old boyfriend Travis Scott? Is this just an everyday piece she wears while running about town? Will she finally give fans the answers they're looking for?
Elite Daily has reached out to Jenner's reps but did not hear back at the time of publication. Let's take a gander at the diamond on that very important finger. It certainly looks like an engagement ring, don't you think? Would she just post a photo of an ordinary piece of jewelry that doesn't have any meaning?
Fans cannot take the suspense — about her relationship status and her supposed pregnancy.
If the makeup mogul isn't teasing a possible union of holy matrimony, she's flirting with the rumors that she is having a baby thanks to her social media hints. Of course, no matter what she posts, fans will link it to her possible pregnancy. With a variety of pretty in pink photos, one can't help but assume that Jenner is expecting a little lady. Just take a look at her pink overload on Snapchat, from her manicure to her niece's birthday cake. It certainly appears as if she has pink on the brain.
But one can never feel too confident. Jenner also took to Snapchat to share photos of her Kylie Cosmetics phone cases, which are adorned with lips (naturally) and different lipstick shades. She asked, "Which one? I'm thinking blue." Of course, in the heat of the moment, people believed that it was a gender reveal for Jenner's baby boy, especially considering the only two options to choose from were blue or pink. Ms. Jenner, you are one sneaky lady.
Then there are times where people question whether or not she is pregnant at all. Jenner clapped back at photos she claimed were altered by the Daily Mail in order to make her appear as though she is pregnant. In a tweet, Kylie Jenner posted some of the pictures and wrote,
First of all if you're going to photoshop my photos blogs/paps!! Check for the crooked lines in the background.2nd photo is clearly altered
Ah, the saga continues. Jenner is still playing the "Is she, isn't she" game, and fans are holding on to every possible clue until the starlet confirms or denies the rumors that have made their way around. You better post carefully, Jenner because all eyes are on you.
Check out the entire Gen Why series and other videos on Facebook and the Bustle app across Apple TV, Roku, and Amazon Fire TV.