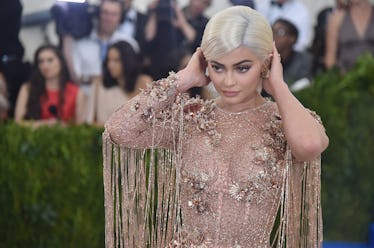 Kylie Jenner Breaks Her Instagram Silence Amid Pregnancy Reports & Fans Can't Deal
Theo Wargo/Getty Images Entertainment/Getty Images
After people wondering where Kylie Jenner has been for the past 72 hours, the starlet has finally made an appearance on Instagram. The Life of Kylie star took to social media to tease the release of her newest eyeshadow palette and velvet lippies. Kylie Jenner broke her Instagram silence to share her new products, but she's definitely still in hiding. All we saw of Kylie was a close-up of her arm with some swatches. Suspicious AF.
I'm not sure what Kylie is trying to tell us. Kylie Cosmetics announced the newest products on Jan. 16, and Jenner remained silent FOR HOURS. Fans noticed this right away because Jenner is usually the first one to break the news about new products and launch dates. Plus, promoting Kylie Cosmetics is always top of mind for the starlet. The fact that she half-heartedly posted a few swatches on Instagram is really weird.
Since Kim Kardashian and Kanye West welcomed their third baby via surrogate, all people can talk about are babies. Specifically, when will Jenner's arrive? Keep in mind, there has been no confirmation of the pregnancy from Kylie nor the rest of the Kardashian-Jenners. However, it's getting pretty hard to explain all of Jenner's mysterious behavior.
Whether Jenner is or is not pregnant, she's definitely been leaving little breadcrumbs all over the place. I am like a mouse who's following the trail... hard.
On Sunday, Jan. 14, a new episode of Keeping With The Kardashians aired that only featured the youngest member of the family once.
While Kris Jenner was doing interviews with the KUWTK film crew, her phone started ringing. It was Kylie calling, and she was freaking out about an employee taking pictures of her without her knowledge. Honestly, that's so freaking creepy. Kris rushed out of the interview while asking Kylie if she called the police and what her next steps were going to be. It was a very dramatic scene.
Kris explained to the camera,
You want to trust the people you're surrounded by, but… we have to be on alert all the time.
This stuck out to fans as a clue about Jenner's reported pregnancy. Why was it such a big deal the employee was taking photos? Was it extreme enough that the police would possibly have to get involved? WHAT ARE YOU HIDING, KYLIE? If Jenner's pregnancy is real, those pictures would be worth a lot of money. Like, quit your job and take a trip to Turks and Caicos money.
I already have my suspicions that the Kardashian-Jenners have had to pay off a paparazzi or two in order to keep Kylie out of the public eye. Just a theory, though.
Then, fans started freaking out because they thought Jenner was caught red-handed with a baby bump at her local CVS. Although no one from the Kardashian-Jenner family has commented on the photos, fans are skeptical the woman in the photo is actually Jenner.
The woman in the photo definitely has a strong resemblance to Jenner, but I don't think it's an exact match. Yes, the woman pictured has dark hair and is wearing an oversized hoodie (very Jenner), but would the reality star risk it all for a drugstore run? I highly doubt it. If this was how it was proven to the world that Jenner was pregnant... I can't. I won't even go there.
Jenner has made it abundantly clear that any news she has to dish will be revealed on her schedule. Time will tell if all the reported pregnancy rumors are true or not. At this point, I honestly have no idea what to expect next.
Check out the entire Gen Why series and other videos on Facebook and the Bustle app across Apple TV, Roku, and Amazon Fire TV.