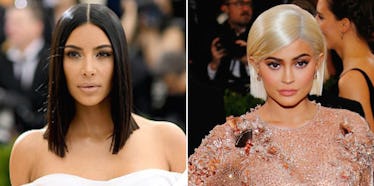 This Wild Fan Theory Explains How Kylie Jenner May Have Been Kim Kardashian's Surrogate
DIMITRIOS KAMBOURIS/JACKSON LEE/GETTY IMAGES
Kim Kardashian and Kanye West's daughter has arrived! Kardashian announced on her app on Tuesday, Jan. 16, that their third child, a healthy baby girl, was born on Monday, Jan. 15, via surrogate. There have been theories floating around during this entire baby whirlwind saying Kylie Jenner was actually Kim and Kanye's surrogate, but those rumors have gone unconfirmed. So who was Kim Kardashian's surrogate? Now that the baby has been born and there were rumors this past weekend that Jenner went into labor herself, some fans believe these two events are connected and that Kylie Jenner was actually Kim and Kanye's surrogate. Elite Daily reached out to Kardashian and Jenner's teams for comment on the surrogate theory, but did not hear back from Jenner by the time of publication. Kardashian's team tells Elite Daily they have no further comment beyond what is said on Kardashian's app.
Kardashian posted on her app around noon on Tuesday, Jan. 16, announcing the arrival of her and West's second daughter. The statement on her app reads,
Kanye and I are happy to announce the arrival of our healthy, beautiful baby girl. We are incredibly grateful to our surrogate who made our dreams come true with the greatest gift one could give and to our wonderful doctors and nurses for their special care. North and Saint are especially thrilled to welcome their baby sister.
Some fans are pretty stuck on the conspiracy theory that Kylie Jenner was their surrogate.
On Saturday, Jan. 12, fans were convinced Kylie Jenner was in labor. It was only a rumor spread around by people on Twitter who said they had sources giving them this info, but multiple sources reportedly told TMZ that the rumors were false.
Given those labor rumors (which, again, are reportedly false) and now the confirmation that Kim and Kanye's baby has been born, fans think this is possible proof that Jenner acted as her sister and brother-in-law's surrogate.
Fans are now wondering if they're going to see Jenner appearing in public again following the birth of Kimye's baby.
But enough about this conspiracy theory that will likely never be confirmed. Kardashian opened up to Entertainment Tonight about what the surrogacy process was like, saying it's much harder than people assume. "You know, it is really different," she said. "Anyone that says or thinks it is just the easy way out is just completely wrong." She continued,
I think it is so much harder to go through it this way, because you are not really in control. And, you know, obviously you pick someone that you completely trust and that you have a good bond and relationship with, but it is still ... knowing that I was able to carry my first two babies and not, you know, my baby now, it's hard for me. So, it's definitely a harder experience than I anticipated just in the control area.
She added,
I hated being pregnant and I never thought I'd ever ... I thought this was going to be so easy, but you know, even in how much I hated it, if I could do it myself I would have preferred that. So, that inner struggle is kind of hard, but I am just rolling with it and it is what it is.
Fans are so excited for the couple and their family.
No one from the Kardashian/Jenner family has released an official comment about Kim and Kayne's happy news, but Kris Jenner and Khloé Kardashian both retweeted Kim's birth announcement on Twitter. And now, we make the official switch from waiting for the Kimye baby to arrive to waiting to find out what her name is...