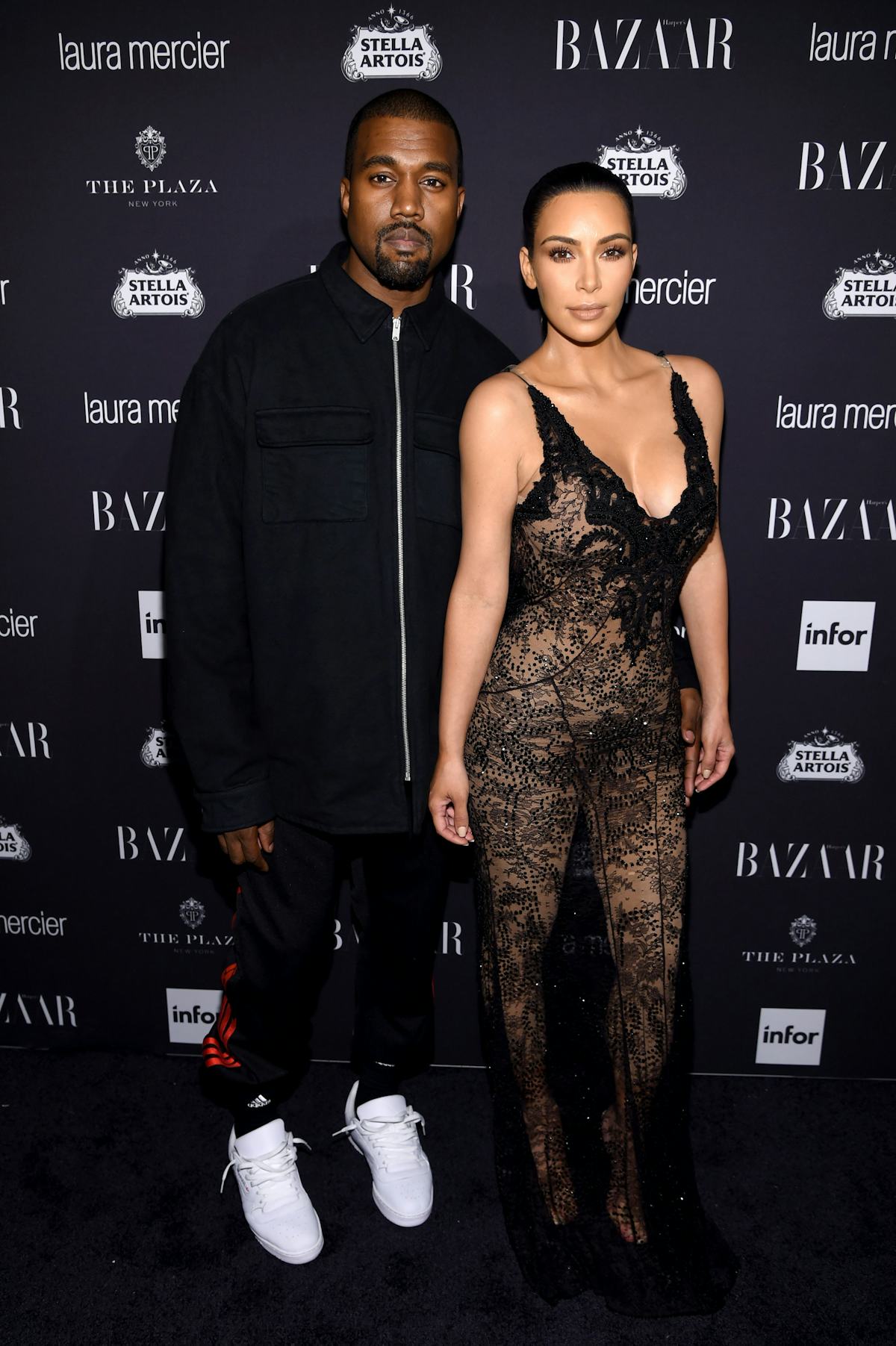 Kim Kardashian & Kanye West's Third Child Is Finally Here & Twitter Is Legit Freaking Out
Dimitrios Kambouris/Getty Images Entertainment/Getty Images
Welcome to the world, the newest member of the Kardashian-West clan! Congratulations are in order for Kim Kardashian and Kanye West, who have welcomed their third child into the world via surrogate, according to TMZ. While we're sure that it's an emotional and joyous time for Kimye, it's equally momental for fans of the couple, and the tweets about Kim Kardashian's third baby certainly prove it.
On Tuesday, Jan. 16, 2018, Kim Kardashian announced on her website that she and Kanye's third child had arrived on Monday, Jan. 15, 2018, happy and healthy at 7 pounds and 6 ounces. In her announcement, Kardashian said,
January 15, 2018
12:47am
7lbs 6oz
Kanye and I are happy to announce the arrival of our healthy, beautiful baby girl. We are incredibly grateful to our surrogate who made our dreams come true with the greatest gift one could give and to our wonderful doctors and nurses for their special care. North and Saint are especially thrilled to welcome their baby sister.
Love,
Kim Kardashian West
Back in June, the world found out that Kim and Kanye opted to hire a surrogate to carry their third child, after Kardashian revealed that her pregnancy condition, placenta accreta, would make carrying another child a life-threatening decision. While this must have been a very difficult decision, I'm sure that having to publicize such a private issue was equally as tough for the mom of two.
In an interview with The Hollywood Reporter, Kardashian talks about her regrets with her on-air pregnancy:
I definitely wish I didn't film so much pregnant. I looked like such a cow and I can't stand to see those episodes. I would say, 'Try to film me more from chest up, so it looks better,' but I look like a blob. I would have rather seen my belly and shot farther away.
Later in the interview, she talked about the possibility of hiring a surrogate for her third child:
There have been a lot of things said and Kanye and I have not confirmed anything. We're definitely trying. We are hoping so.
So, when Kardashian finally confirmed that they decided to go through with a pregnancy via surrogate, she opened up to Entertainment Tonight and really gave fans an idea of what the surrogacy process was like for her:
You know, it is really different. Anyone that says or thinks it is just the easy way out is just completely wrong. I think it is so much harder to go through it this way, because you are not really in control. And, you know, obviously you pick someone that you completely trust and that you have a good bond and relationship with, but it is still ... knowing that I was able to carry my first two babies and not, you know, my baby now, it's hard for me. So, it's definitely a harder experience than I anticipated just in the control area.
She added that coming to terms with hiring a surrogate wasn't easy:
I hated being pregnant and I never thought I'd ever ... I thought this was going to be so easy, but you know, even in how much I hated it, if I could do it myself I would have preferred that. So, that inner struggle is kind of hard, but I am just rolling with it and it is what it is.
Now that Baby Kardashian-West is finally here, the world rejoiced by taking to social media:
Kim K told ET that she is "blessed" to have the chance to have a child through surrogacy:
I think it is definitely a different experience and I am blessed that I am able to do this, and technology is the way that it is that we can do this. But it is still a process that you need to digest. Even the fact that it is happening — and you do forget sometimes — because I think when you are pregnant, by the time you have the baby, you are so prepared and so ready, and now I am just like, 'Oh my God I am going to freak out because I'm not ready and I'm not prepared,' but it'll just all come into place.
When Kardashian appeared on Ellen back in November 2017, DeGeneres brought up the subject of Kardashian's third child, and Kim K got to talking about the baby shower she threw, so that her daughter North could have a better understanding of the concept that a baby was coming, despite Kardashian herself not having a belly. She also let it slip that she was expecting a baby girl:
My daughter, she's really tricky. We had a baby shower over the weekend, and I thought: 'I really do want a baby shower because I want her to feel that something's coming, and I really want her to understand.' People brought toys and gifts [to the shower], and we were opening them all up the next day and North said, 'Mom, since baby sister's not here, I think I need all of her toys in my room and I'll play with them and just make sure they're OK for baby sister.'
Congratulations to Kimye. We can't wait to see photos of the happy family!