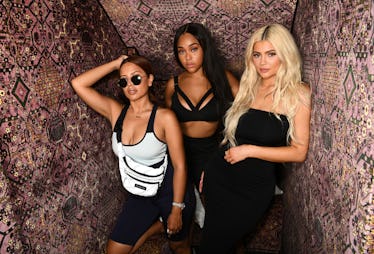 Kylie Jenner Officially Dropped Her 2019 Calendar & The Cover Is Regal AF
Emma McIntyre/Getty Images Entertainment/Getty Images
The holidays come and go, and you're scrolling through social media anxiously awaiting pics from the Kardashian/Jenner crew's glamorous dinners and hangouts. You regularly keep up with their whereabouts and what runways they'll be walking in the next week or so. (Thank goodness this family has their own television show, am I right?) Amidst all the iconic lines and lip kit collections, you shouldn't miss out on this one thing: Kylie Jenner released her 2019 calendar. Seriously, take a look. The cover is regal AF.
All of the ladies in the Kardashian/Jenner fam have had quite the busy year. Kendall has walked the major fashion shows, including Victoria's Secret. Khloe has had her own drama to deal with, and captured the sweetest moments with her newborn. Kylie has been running her business like a boss, stealing spotlights, and raising Stormi. Can she get a quick round of applause, please? *Cues clapping in the background of this article.*
Let's recap, shall we? Kylie gave birth to her first child, Stormi, on Feb. 1, 2018. Along with her birth announcement, she posted a video on YouTube dedicated to her and Travis Scott's daughter, that made the entire world reach for a box of tissues.
On Aug. 9, the beauty queen celebrated her 21st birthday with her sisters and mom by her side. She rocked a hot pink dress and heels, and posted pictures all over social media of her night. These photos included one of her outfit change into a sparkly jumpsuit, just before heading off to dinner.
When Kylie's 2019 calendar dropped on Nov. 23, we kind of already knew it was going to shine just as much as her glittery outfits, and totally Instagram-worthy throughout. Yes, this calendar is good enough to throw on your 'Gram with a caption that highlights this celeb's, well, highlights — all of the notable moments of this past year.
First things first: Kylie announced the drop of her 2019 calendar on Twitter, after teasing the cover and other exclusive photos on her Instagram account. She teased us with regal pictures of her wearing a gold and sparkly dress, with short blonde hair and a crown, in addition to a few close-ups that feature her sparkly gold chains and jewels. Honestly, the whole shoot is giving me some modern and Hollywood-esque Daenerys Targaryen vibes. (Any Game of Thrones fans out there?)
Now, every Kylie Jenner-lover has access to the full calendar and the photos inside. It includes 12-months of exclusive images of Kylie, as well as a bonus poster. Everything was shot by photographer Greg Swales, according to Kylie's official site.
From the sneak preview in the tweet about the drop, the inside of the calendar screams glamour. Kylie sports leather bodysuits, her blonde locks, and bold lip colors — which I can only assume is straight from one of her Kylie Cosmetic lip kits. (Did you know you can grab some of those products at Ulta now? Sweet!)
You can purchase the calendar and all of its beauty in her shop, and score those exclusive photos. Let's be honest: Hanging this up will make any room, workspace, or Christmas gift feel a little more #regal.