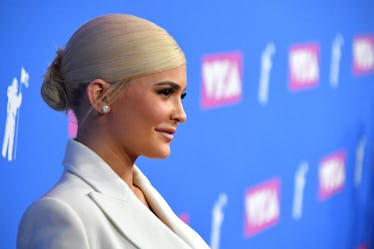 Kylie Jenner's Thanksgiving 2018 Instagram Posts Are Seriously So Precious
Dia Dipasupil/Getty Images Entertainment/Getty Images
It wouldn't be Thanksgiving in America without the Macy's Thanksgiving Day Parade, more food than you can eat, and an update from the Kardashian/Jenner clan. While 2018 was a fairly tumultuous year, one thing we can always count on is Kylie Jenner sharing some truly heartwarming photos of her adorbs daughter Stormi on social media to brighten the day. So, look no further than Kylie Jenner's Thanksgiving 2018 Instagram posts to give you all the warm and fuzzy holiday feels this Thanksgiving.
The Kylie Cosmetics maven posted two absolutely gorge black and white portraits to her Instagram account to celebrate Thanksgiving today. The first post shows Jenner with her boyfriend, Travis Scott, and their daughter, Stormi Webster. The two new parents are sandwiching their chubby-cheeked honey, who gazes off in the distance as if to say, "Yeah, I know I'm cute." The second post is a mother-daughter shot, with Jenner gazing at Stormi as the little tot sits on her lap. Jenner captioned the post, "Happy Thanksgiving," with a black emoji heart.
Kylie's Insta story also featured two perfectly bronzed (as all things Kar-Jenner usually are) turkeys in the oven, with the caption, "Thanksgiving Love." So, can we assume one turkey is for her and the other is for little Stormi? It turns out that those tasty birds were courtesy of Kylie's sister, Kourtney Kardashian, who documented their culinary adventures on her Insta stories.
Kourtney's first Insta story today featured all the delicious food soon to be on the Kar-Jenner Thanksgiving table, and she revealed she was teaching Kylie a thing or two. Kourtney narrated the story saying, "So I'm teaching Kylie how to cook to today," and is interrupted by Kylie's protests. In a sweet sister moment, the two briefly squabble about their kitchen skills, as Kourtney goes on to show several containers of prepped Thanksgiving classics — mashed potatoes, stuffing, and green bean casserole! The Insta-story chronicle continues, as Kourtney shows Jenner's "beautiful hands" preparing a massive tray of candied yams, and yes — there will be marshmallows on top.
While it's unclear if all the Kardashians, Jenners, and their children will be celebrating together today, it's clear that they're taking their Thanksgiving meal prep very seriously. Kourtney's third Insta-story features her mother, Kris Jenner, making her "famous brownies," and from the looks of it, she's making enough to feed a small army. So perhaps that does mean that the entire family is coming together to feast on Turkey Day. One question: Can I come?
Thanksgiving is a time to come together with family and friends and celebrate all the blessings we have, and while celebrities' lives seem fancier and more sparkly, clearly today means the same thing to the Kardashian/Jenner clan as it does to anyone else. After all, family and friends are truly blessings to be grateful for. From the look of what Kylie has chosen to share with her 119 million followers on Instagram today, it's clear that she, too, appreciates her family, her partner, and her beyond-cute daughter more than all the Kylie Cosmetics lip kits in the entire world.