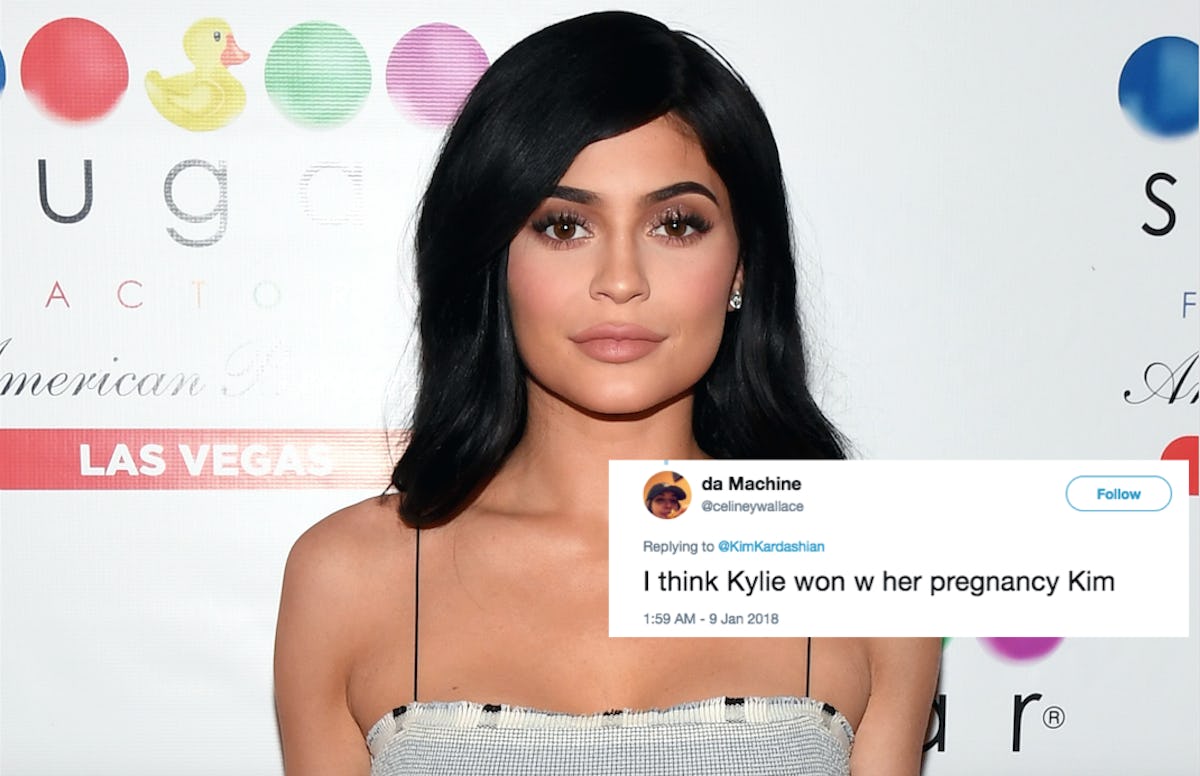 Fans Can't Stop Trolling Kylie Jenner After Kim Kardashian Posted This Tweet
Kylie Jenner has barely been seen in public in months. The reality star/makeup mogul has taken herself out of the public eye, seemingly in order to keep her reported pregnancy a secret. The only pictures we've seen from her since September have been from the chest up, and with the exception of some photos that fans think reveal Jenner's reported baby bump, we have no actual clue what Jenner looks like nowadays. That's why Kim Kardashian's tweet about North West is so funny. In the tweet, Kardashian says her daughter is the "hide & seek champ," but fans have been quick to troll Kylie Jenner in their replies, basically saying, "Kim, Imma let you finish, but Kylie Jenner is the greatest hide and seek player of all time!"
The tweet was a hilarious photo of North West playing hide and seek. She's hiding in an ottoman, but the cutie didn't realize her hair was poking out. So while this was an excellent hiding place, her plan was foiled by the curls. It's honestly the cutest photo ever, and Kardashian knew it, so she posted it saying, "North is the hide & seek champ! 😂"
Oh, North West. You do the darnedest things.
Fans were quick to correct Kardashian on who the real hide and seek champ is.
I mean, where is the lie? Jenner has done an immaculate job of keeping herself out of paparazzi photos for the last four months. Her life went from being the most public in the world to the most private in what felt like a matter of days. Where has she been hiding all this time?! Calabasas, apparently. Jenner has reportedly been spending a lot of time at home while preparing for her reported baby. And that tracks, seeing as one of the most frequent things Jenner posts photos/videos of on Snapchat and Instagram are her house in California. According to reports, she spends a lot of time at home and has her friends come over to spend time with her.
Jenner reportedly had a baby shower the day after Kim Karadashian had hers back in November. A source told People that Jenner's shower had been planned for a while and had a pajama theme, whereas Kardashian's was planned a little more on the spot (guests like Chrissy Teigen reportedly got their invites the week of). A source told People that Jenner has preferred to spend time at home during her reported pregnancy. The source said she is trying to "keep a low profile" before the baby is born.
It's a rumor that got its start on Twitter, obviously, because that's where all of the Kardashian conspiracy theories are cooked up. Basically, fans believe the women looking off to the side in the Christmas Eve photo from the Kardashian Christmas card are actually looking off at Kylie and her baby. There were some theories that they were looking at pregnant Kylie, but now fans are convinced she already gave birth and bamboozled all of us with a phony March due date.
Because they believe Kylie already gave birth, there are also those who've theorized that Tyga is actually the father of the baby, not Travis Scott.
Basically, some fans think the math doesn't add up. If Jenner already gave birth, that means she might've been pregnant long before we were led to believe. She and Scott hadn't been dating for that long before Jenner's reported pregnancy news came out. This makes some fans think Tyga is actually the father (he hinted at this when the pregnancy news first broke, but has since denied it).
This theory is fueled even more by Travis Scott's weird response to being asked about Jenner's pregnancy.
When asked if he had spoken to his own father about "becoming a father" this year, Scott reportedly replied, " "Uh... for what?" This is very sus, guys. Very sus. We'll just have to wait for Kylie Jenner to tell us the truth herself. That is, if she ever does...