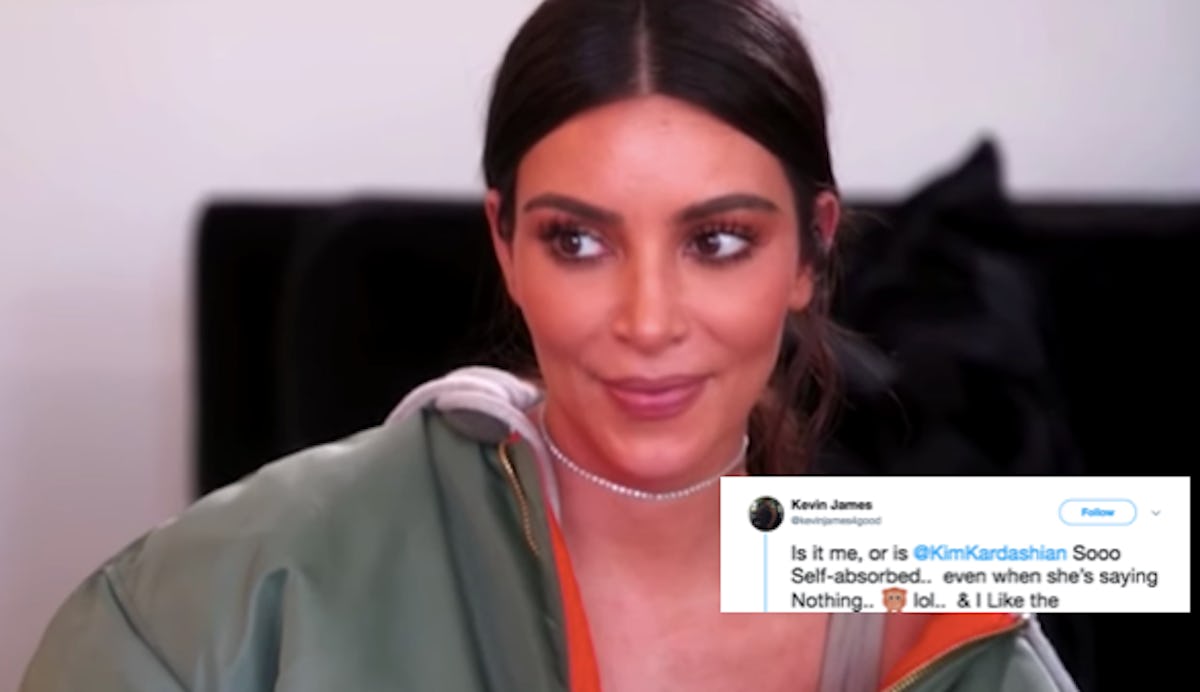 Kim K's Hilarious Clapback Tweet About Being Called "Self-Absorbed" Is Pure Fire
E! Entertainment
Sure, she wrote a book called Selfish. So, what? You think that being maybe the most famous person, in the most famous family, in the whole world makes you a little self-involved? Not for Kim Kardashian West. Trolls came for her after a recent Keeping Up With The Kardashians episode, but Kim Kardashian's tweet about being "self-absorbed" is my favorite clapback of 2018 so far. Don't mess with this one, honey.
Obviously, the Kardashians rocketed to stardom thanks to Kim K's persistent quest into the public eye back in the earlier 2000s. Many people have blasted the family for becoming so famous for "no reason" and for "not having any talent." Well, from where I'm sitting, it looks like the Kardashians rode their "no talent" butts all the way to the bank. Anyone who truly follows Kim Kardashian knows her work ethic, loyalty, and moral compass are some of her strongest assets, and to paint her with such broad strokes is boring and lazy. Just ask Kardashian herself.
After a January episode of Keeping Up With The Kardashian's, one fan took to Twitter to hate on Kardashian and her habits. The user wrote,
Is it me, or is Kim Kardashian sooo self-absorbed... even when she's saying nothing... lol... & I like the Kardashians. #KUWTK
Kardashian could have handled this a few ways. One option would be to ignore it, but that's no fun. Another option would be for her to become defensive and engage in an online argument, but that's just giving the haters what they want. Instead, Kim took the best route possible and responded with a hilarious joke.
In a short, sweet, and super funny move, Kardashian responded, "No, it's not you, I totally am!"
Self-deprecating, successful, gorgeous, and funny? Sorry Kevinjames4good, whoever you are, she's got you here.
Fans were loving it.
Despite her sense of humor in this moment, you better believe Kim K will come for you if you come for her family.
Right now, it's a particularly intense time to be in the Kardashian/Jenner family, and all members are playing a little bit of media defense. Kim and Kanye West just welcomed their third child, Chicago, and Khloé Kardashian is expecting her first baby sometime early this spring. Of course, Kylie Jenner is also rumored to be pregnant, which is a secret Kim K will doing anything to keep.
The last time trolls attacked Kim was around New Year's Eve when they questioned where she was during Saint's hospital stay for pneumonia. This time, Kardashian was not joking around when she responded on Twitter. She said,
I haven't heard this BUT lets get this straight. I did not leave my son for one minute during his hospital stay. We were there Wednesday night to Saturday. NYE WAS SUNDAY NIGHT. People came over when he was already asleep for the night! Don't even try me when it comes to my kids.
She also came to Kris Jenner's defense when the media dug up old photos of the family matriarch and called her "chubby." Kim K immediately jumped to her mother's side, re-sharing the headline with the caption, "Chubby really? That's the headline? How about beautiful, youthful, stunning?!?!"
Of course, these are just very small examples of how much Kim and her family have stuck together. It feels like they have seen and done it all, and in the public eye, no less.
Let's just make sure one thing is very clear: No matter who you are or what you do, you could never, ever, slay as hard and consistently as this woman.
(But, you already know that, Kim.)
Check out the entire Gen Why series and other videos on Facebook and the Bustle app across Apple TV, Roku, and Amazon Fire TV.