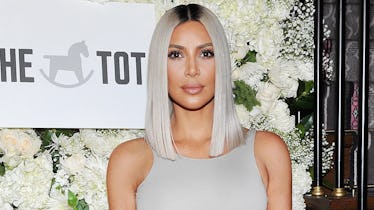 Kim K Went To The Most Lavish Taco Wednesday Party At J. Lo's & There Are Pics
I've had a lot of tacos in my life, but I've never had one at J. Lo's house, so I consider myself to be a failure. Kim Kardashian, on the other hand, apparently has tacos at J. Lo's all the time, and I'm not upset I haven't been invited, I'm just disappointed. Kim Kardashian's photos of J. Lo's Taco Wednesday party are making me feel three specific emotions: jealousy, FOMO, and most of all, hunger. I'm going to need Chipotle later, I can feel it.
The soon-to-be mom of three posted a bunch of photos and videos on her Instagram story from J. Lo's over-the-top (I mean that in the best possible way) taco night. Her story featured selfies of her and some of the other guests, including but not limited to Kris Jenner, Kourtney Kardashian, and Leah Remini. They were all decked out in fancy AF clothing, but the prize for best dressed definitely goes to J. Lo, who hosted the party along with boyfriend Alex Rodriguez in a matching sparkling top and pants. Kim K wore a hot pink faux fur coat, and Kris Jenner wore the Gucci coat she got for Christmas. It was as extra as it sounds, and I'm living for it.
How in sweet hell do I get an invite to this Taco Wednesday party?! Does this happen every week?!
What did I tell you about these outfits? Extra. As. Hell. Please tell me where I can buy them for cheap.
Kim K started out her Instagram story by posting a selfie video of her and Mama Kris.
Then she posted what she calls a "rare selfie," although I'm not sure we can say selfies from Kim Kardashian are rare...
And then she showed us J. Lo's epic outfit followed by the epic spread of taco fixings.
Then came another "rare" selfie.
J. Lo's mom, Guadalupe Rodríguez, was also at the party, and she hung out with Kris Jenner. Then the two mamas took a selfie with their daughters in an iconic shot.
Soooooo, I'm guessing Kim K's surrogate hasn't given birth yet? Is she on constant baby watch right now?! Was she stressed out as hell mid-taco assembly?! I need answers! According to Us Weekly, Kim and Kanye's third child, a baby girl, was supposedly arriving "before Christmas." It's not clear whether or not the baby has been born yet, but fans are anxiously waiting for the announcement. After basically the entire internet was disappointed after Kylie Jenner didn't confirm her reported pregnancy on day 25 of the Kardashian Christmas card like many thought she would, fans would sure love to see some more confirmed baby news from the Kardashian squad.
With the upcoming arrival of Kim and Kanye's daughter and with Khloé Kardashian's confirmed pregnancy, we can expect 2018 to be filled with Kardashian baby news. Even if Kylie Jenner doesn't confirm her reported pregnancy until after she gives birth (that's her plan according to People), we're still going to see the Kardashian family grow by two in the new year.
Fans think the first photos of Kylie Jenner's reported baby bump have surfaced. The photos are paparazzi shots from the birthday party Jenner threw her best friend, Jordyn Woods, back in September. While the party (which was held at Will and Jada Pinkett-Smith's house in Calabasas) wasn't a secret, we hadn't seen many shots of Jenner at the event. But photos have resurfaced, and fans swear they can see her baby bump underneath the baggy sweatshirt she's wearing. You can see the photos of Kylie Jenner's reported baby bump here. While the photo is blurry, it's hard for me to deny that there does appear to be a bump there. But I won't believe anything until Jenner confirms it herself, so this waiting game just might kill me.