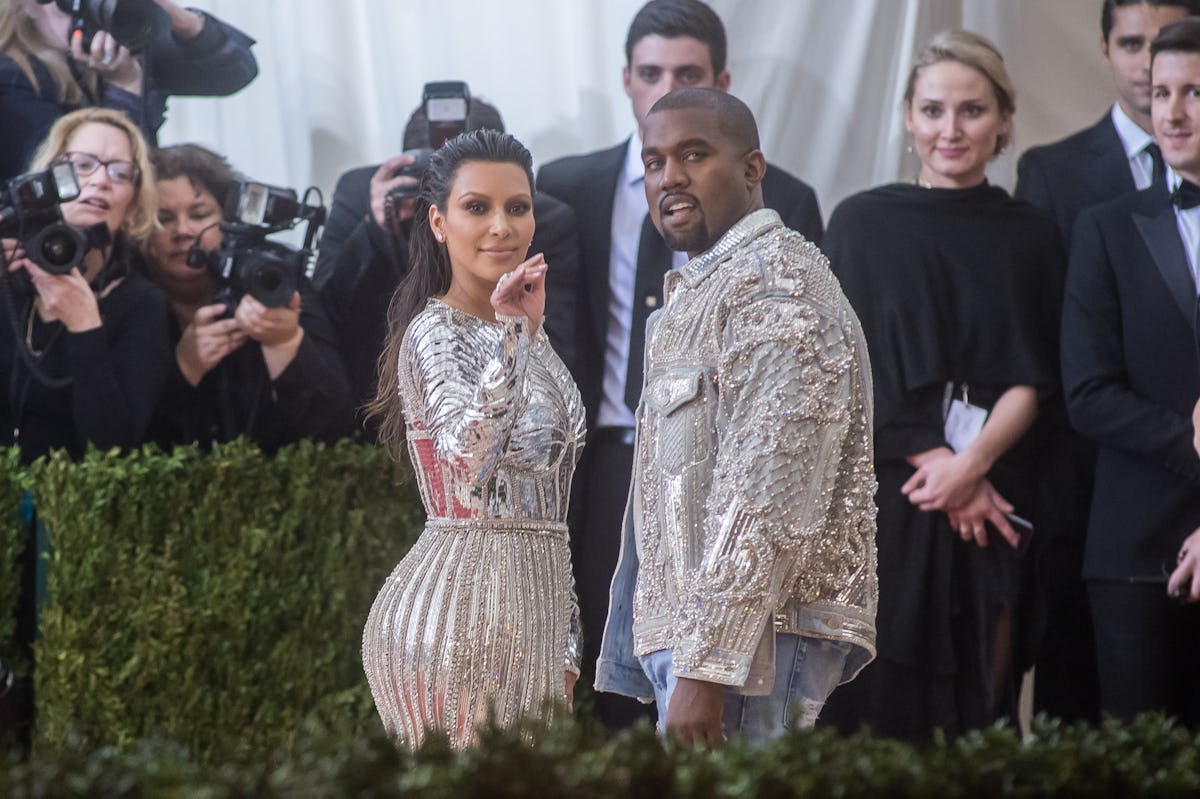 Kanye West's Christmas Gift To Kim Kardashian Will Make You So Jealous
Mark Sagliocco/Getty Images Entertainment/Getty Images
This year, I opened a dope, new yoga mat for Christmas. Similarly, Kim Kardashian was gifted stock to some of the world's largest and most successful companies. So basically, we're twins. Kanye West's Christmas gift to Kim Kardashian is yet another example of how wild their lives really are. Just when you're at home watching Keeping Up With The Kardashians and thinking they're not so different from you and me, West goes and does something like this. Then we're all like, "Oh, yeah. You're rich AF."
If you've been paying attention, Christmastime has been a whole "thing" for the Kardashians this year. Usually, the famous family releases one epic Christmas photo, but this time they broke it up into 25 different pics and rolled them out one at a time on social media. Also, Khloé Kardashian finally confirmed her pregnancy, and Kylie Jenner has been so mysteriously flying off the radar that her fans are in a full-on panic. So yeah, it's been a big month.
Usually, Kris Jenner decorates her home like the North Pole and fans crane their necks to catch a glimpse into Kardashian Winter Wonderland. This year, we had a bonus sneak peek into Kim's gifts, and they're, like, really, really something.
We've seen Kardashian post unboxing videos in the past, but this one was special. Kardashian took to Instagram to videotape her gift from her equally famous and wealthy husband, Kanye West. At first glance, it just looked like a series of gift cards from brands you know and love. We could see names like Adidas, Netflix, Disney, Amazon, and Apple. Kardashian explained,
OK, so for one of my Christmas presents from Kanye he gives me this little box with a Disney Mickey toy, Apple headphones, Netflix, Amazon gift cards, and Adidas socks.
I know, it seems suspicious right away. But wait...
She continued,
But then I open the next box and it is stock to Amazon, where he got the gift card, stock to Netflix, stock to Apple where he got the headphones, Adidas stock, and Disney stock.
Stock, you guys. Stock.
WHAT A GROWN UP AND RICH PERSON SOUNDING THING!
According to People magazine, it looks like Kardashian received 920 shares to The Walt Disney Company, which is valued around $100,000. She also received 995 shares of Adidas stock valued at $169.40 per share as of Dec. 26. People guessed West probably spent around $100,000 between the rest of the stock purchases based on what we can see.
I know, my brain is not computing either. I don't understand how money, stock, and things like retirement funds work, but I do know Kim must have really liked it. She even captioned the video, "best husband alert!"
Kardashian and her family continued to celebrate the holiday in the only way they know how — at a Kris Jenner party.
Along with sharing her stock video, Kardashian posted some footage hanging out with her pregnant sister Khloé at the seriously impressive shindig. In the video, Kim and Khloé looked truly glamorous in silver ensembles. Kim said to the camera, "I know what you guys all really wanna see."
She then low-key panned to her sister's belly.
I don't know. I don't know. I don't know. The whole thing is weird and also fascinating.
We can assume the rest of the night was filled with delicious treats, amazing fashion, famous people, and lots and lots of stock locked away somewhere in Kim's room.
One thing is for sure: There has never been and will never be a Christmas party like a Kardashian Christmas party.