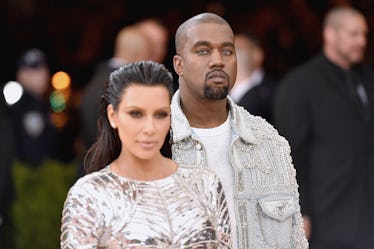 Kim Kardashian's Latest Christmas Card Features An Unexpected Guest
Mike Coppola/Getty Images Entertainment/Getty Images
'Tis the season for egg nog, fireplaces, and so, so many Kardashians. If you haven't been following Kim Kardashian's Instagram like a hawk this week (which, fair enough), then you've completely missed all of the pictures from her family Christmas card. These are epic, highly professional pictures, matching outfits and everything. Perhaps the best part of the whole thing is that Kanye West's Kardashian Christmas card debut is completely unexpected, so I'm sending tons of applause for that.
Kardashian teased a few shots of her husband before posting a full body shot of the whole family in a Dec. 16 Instagram post. The picture features Kardashian, West, and their two children in a very ethereal, all-white photoshoot. All of them are wearing matching jeans and t-shirts because, of course.
This came as a big surprise, because according to Bustle, Kardashian had originally said during a November interview on The Late Late Show with James Corden that the card would just be "women and children this year." I wonder what changed? Maybe West felt left out. Or, maybe Kardashian changed her mind. Or, maybe the whole "woman and children" thing was a ruse. You never know with all that Kardashian clan sneakiness (looking at you, Kylie).
Whatever the reasoning might have been, it was well worth it for this shot:
Also, can we just talk about how photogenic this entire family is? Not jealous at all.
Here's Kendall looking serene and ridiculously cool.
So many cute kids.
And here's Kim managing to pull off platinum blonde in a way that few brunettes can (a admirably bold choice).
Also, not to get off topic here, but in what world is Khloe pregnant? Calling FALSE on that one.
The Kardashians are into the holidays big time. Kylie Jenner literally bought a 20-foot Christmas tree for her house this year, complete with quite possibly the largest ornaments you will ever see if your life. It is a wonder that they didn't knock the tree down altogether.
Not to be outdone, Kris Jenner decorated her house with rainbow-themed Christmas decorations (because, why not). There was a red polar bear statue, white animatronic reindeer, and, of course, stockings above the fireplace.
"She used to do a huge tree but now she's doing four smaller trees all in rainbow, really classic and pretty," Kim said a Snapchat video of the winter wonderland.
While this was all very, very impressive, it didn't quite hold a candle to Jenner's decorations last year. The matriarch went for candy themed decorations, and decked out her enormous tree with candy cane ornaments. She also decorated her table especially for the holidays — down to the very last dish. She told Architecture Digest,
I enjoy looking at my dishes and bringing everything out because it means it's the holidays. This year, I went with plaid. Plaid is very traditional and it reminds me of being in the mountains. It's very Tommy Hilfiger or Ralph Lauren. So I mixed the plaid with snowmen this year. I found these great snowmen plates, and they look so good together!
Now, don't go thinking it's just about the material things for this family. During Keeping Up With The Kardashian's hour long holiday special on Nov. 26, the family talked about what they meant to one another.
"I'm thankful for my mom, because I don't know what I would do without you," Kylie Jenner said. "You're like my favorite person on the planet." Her mom returned the favor, adding,
I used to pray that one of you guys would have a baby and now it's like a faucet that we turned on that won't turn off. The fact that I have all these grandchildren. It's been the most amazing journey to watch your kids — because it's truly the meaning of just life.
Hmmm. Maybe those pregnancy rumors aren't totally false after all?
Here's to so, so many more Kardashion Kristmases (heh) to come.