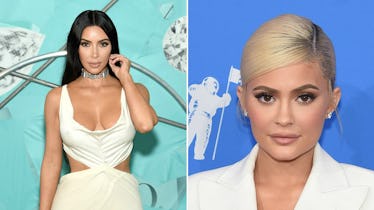 Kim K Had The Best Advice For Kylie Jenner When She Opened Up About Her Body Insecurities
Dimitrios Kambouris/Getty Images Entertainment/Jamie McCarthy/Getty Images Entertainment/Getty Images
The Kardashians experience many the same things you and I do, and aside from the fact that they're clearly living in the lap of luxury, the only major difference is that the entire world keeps up with these sisters, and are constantly watching to see how they handle it all. For example, Kylie Jenner owns a multi-million dollar business, and she's living life as a new mama, but need I remind you, the girl just turned 21 years old? Kylie's got a lot going on in her world, so I'm sure Kim Kardashian's advice for Kylie Jenner's body insecurities was really comforting for the youngest Jenner to hear. Listen, pregnancy or no pregnancy, it's not easy being a 20-something-year-old woman and having to experience your body maturing and changing by the day. Combine those experiences with the unfiltered backlash of social media trolls, and I can only imagine what that must feel like for Jenner.
In a PEOPLE exclusive clip of this week's episode of Keeping Up With The Kardashians, the video shows a heart-to-heart talk between Kardashian and Jenner, which took place smack-dab in the middle of Jenner's enormous walk-in closet. Jenner was sifting through massive piles of clothes, going through pieces and deciding whether to keep them or toss them, when Kardashian popped in to catch up with her little sis. Jenner didn't waste any time opening up about how she was feeling in her body after giving birth to her daughter Stormi only eight months ago, and because you can always leave it to Kim to swoop in with a few words of sisterly wisdom, the mother of three reassured the new mama that feeling a little, or a lot, off in your own skin post-pregnancy — hell, in general — is completely normal.
"I'm feeling a little insecure," Jenner told her older sister in the clip. "I feel like my hips have just spread. Like my favorite jeans — they're never going to fit me again." Obviously having given birth to two out of her own three children, Kardashian can relate. "Trust me, I get it," Kardashian said. "But the pressure to snap back — it took me a good six to eight months. Once I got there, I was like OK, I'm never leaving." In other words, once Kardashian realized that her body was just naturally changing, she realized the only thing she could do was live her healthiest life, and accept whatever changes her body needed to make in order to thrive.
Of course, acceptance is hard when it comes to something as personal and as fixated upon as the shape of the human body. Women are constantly feeling the pressure to look a certain way, and as someone who's front and center in the Hollywood spotlight, Jenner has certainly had her fair share of body shamers criticizing things like her choice to get lip fillers, as well as her overall appearance. So to make the transition a little easier, Kardashian suggested that her younger sister should get out of the house, treat herself to a shopping spree, and find some pieces that make her feel good. She told Jenner,
I know it's like, really early and Stormi is so little but you just have to roll with it. You just have to be confident, get some things that make you feel good about yourself and find your balance.
Personally, I think this might just be the most relatable, most useful piece of advice I have ever heard come from Mrs. Kardashian West. Because, while it's absolutely true that a woman's body is going to change after she gives birth (I mean, hello, she literally just squeezed a human out of her uterus), your body naturally changes over time. Not only that, but sometimes clothes shrink in the wash, or your style changes, and the kind of fit you preferred months ago isn't your taste anymore. None of these things add up to you being any less beautiful, though. It just means life happened, your body matured, and you have to adjust.
So, Kylie, if you're reading this, listen to your sister. As for the rest of you, you, too, could definitely benefit from taking Kardashian's advice to heart. Just as clothes do not make the man, clothes that do not fit do not define your worth. Call up your besties, hit the mall, and find some new wardrobe staples that not only look good on the outside, but that also make you feel amazing on the inside. At the end of the day, that's all that really matters, anyway.