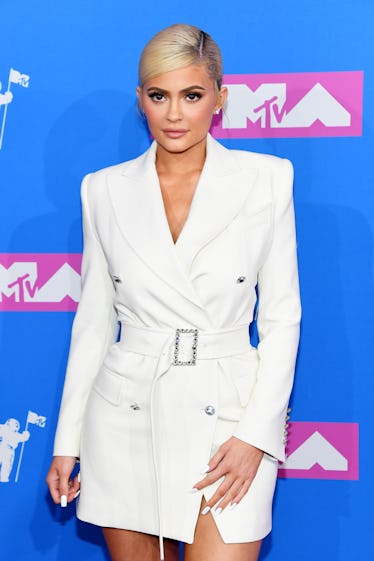 Everyone Needs To Hear Kylie Jenner's Comments About Her Body After Giving Birth
Nicholas Hunt/Getty Images Entertainment/Getty Images
Having a baby has truly changed Kylie Jenner. Not only has she grown up quite a bit since becoming a mom, but she's also way more body positive than she was before. While the makeup mogul has often been candid about her insecurities, having a baby has totally changed her outlook. And she recently told Glamour UK all about it. Kylie Jenner's comments about her body post-pregnancy are unexpected, but very encouraging for anyone out there who struggles with body image issues.
Jenner is gracing the cover of the Autumn/Winter issue of Glamour UK and in the cover story, she opened up about her own body image issues. When speaking about her pregnancy, Jenner revealed that the experience changed how she views her body.
"Pregnancy completely changed my body at a super young age," Jenner told Glamour UK. "But I really don't care."
The fact that she doesn't care about the impact pregnancy has had on her body should be a cue to all new moms out there who fret over getting back to their pre-pregnancy bodies. Jenner obviously works on keeping hers in good shape, but it sounds like welcoming Stormi into her life was well worth the change.
In addition to talking about her post-pregnancy body, Jenner opened up about what it's like to live with insecurities. Those insecurities have led her to make changes in how she presents herself in public.
"I was super insecure about my lips," Jenner said. "I really wanted the illusion of bigger lips, so I over-lined mine like crazy … And then people started getting obsessed."
The allusion here is to the media's seemingly endless fixation of Jenner's lips, which have appeared to change in size and shape over the years. But Jenner isn't about to let that get under her skin.
"So many negative things come at me all the time. Of course, it does affect me, but you develop a thick skin," she told Glamour UK. "Nothing has lasted so long that I haven't gotten through it, so whenever a new bad story or rumor emerges, I know it will pass, too. Everything in life is transient."
What an amazing outlook to have, especially for someone in her position. Jenner and her family obviously bear the brunt of a lot of negative publicity. It's great that she's developed a method for keeping her head up and letting most of it slide.
She has a good reason for doing that, though: her daughter, Stormi. In her interview with Glamour, Jenner revealed that being a mom and mogul gives her a sense of "purpose."
"The business has given me a purpose. I love to work, as [Kris Jenner] has installed such a great work ethic in all of us. If I didn't have that, I don't know what I would do," she said. "I get to create, it exercises my mind and I am always thinking of how to make the formulas or develop new products … I work hard for Stormi and being able to pass Kylie Cosmetics onto her — if she is interested — would be such a cool thing to do."
Sounds like Jenner definitely has her priorities in the right order.