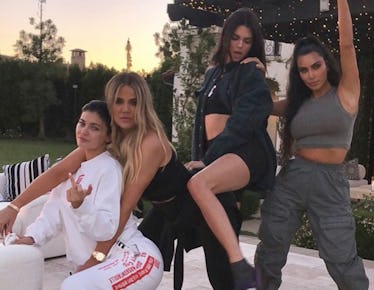 The Sister Kim Kardashian Goes To For Parenting Advice Is Actually Pretty Surprising
Khloé Kardashian on Instagram
What a year it has been to try and keep up with the Kardashians. Three out of the five sisters all welcomed daughters into the world in the last year, so the already huge family has grown even more in size and baby fever has swept all of their lives. Kim Kardashian opened up about life with all of their new babies around, and the reason why Kim Kardashian goes to Kylie Jenner for parenting advice actually makes a lot of sense.
In an interview with E! News at her KKW Beauty Pop-Up on July 2, Kardashian talked about how all of her sisters help each other out with their kids. That's when she dished on who she goes to for parenting advice because, let's be real, even third-time moms need help. "Lately, it's been Kylie," she said, saying the reason is that her youngest sister knows about all of the latest baby consumer products. "Kylie is up on all the new gadgets and the new baby stuff," she said. "But Khloé and I probably have the most similar parenting style." She added that she also seeks advice from outside sources, not just her family. "I will usually go to one of my best friends Larsa Pippen because she has four kids for mom advice," Kardashian revealed.
Who would've thought five years ago that by 2018, Kim K would be getting parenting advice from Kylie Jenner?
Life comes at ya fast.
While having nine kids under the age of 10 in the family might come off as a fiasco to some, Kardashian says it has brought all of her siblings closer. "I think we're even closer now," she said, "because Kourtney and I, even if we don't disagree [sic] on some parenting tips, we'll discuss them thoroughly and we respect each other's rules, but we pick up the slack for each other, too." She continued, "I know that if Kourtney's out of town, then the kids will sleep at my house and we'll plan these fun things where the kids always feel loved. We're always helping each other out."
With Khloé Kardashian being back in Los Angeles with baby True, the whole family is finally back together and all of the cousins are all in one place. Kardashian said it's been wonderful having everyone back and that all of the kids can't get enough of each other. "I definitely feel like we are more connected now especially that Khloé's back and we're hanging out with all the babies," she said. "All the kids want to hang out. It's just a whole different experience now. It's so much fun."
Khloé Kardashian moved back to L.A. over Father's Day weekend in June. On her birthday, Kim posted the sweetest photo of her, Khloé, Chi, and True.
Her caption read, "Happy Birthday to one of my favorite souls on this planet! This year you have shown strength like none other. I admire you for always following your heart. I love seeing you as a mom and can't wait for the years ahead. Let's celebrate you today! I love you to infinity!"
In an interview with Entertainment Tonight on June 19, Kardashian said she's so excited to have True in town because that means Chicago West, Stormi Webster, and True Thompson can finally be together. "I'm so excited," she said. "They came back on Sunday and I just piled the kids in the car and took them to meet their cousin, True, and it was a lovefest." She added,
I feel like Stormi and Chicago have so many photo shoots together, and we just text the pictures to Khloé of them sitting on the couch and we're like, 'Where you at, True? We're waiting for you!' Now that she can be in the mix, it's going to be so much fun.
Kim, Khloé, and Kylie reportedly planned a Stormi, Chi, and True photo shoot since their daughters are all so close in age, and according to Khloé's Twitter, that photo shoot went down on July 1!
One fan tweeted at Kardashian asking, "@khloekardashian when are we going to see pictures of True, Stormi, and Chi ??" True's mama quoted the tweet and said, "We had a cousin photo shoot TODAY!!!! It was the CUTEST." TBD on when those photos will be released, but they're bound to be the cutest freaking photos ever.