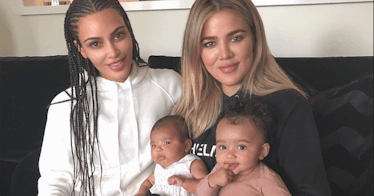 Khloé K Just Confirmed The Kardashian Baby Photoshoot Happened & I Need to See Pics NOW
Instagram/KimKardashian
Get ready for the most iconic photoshoot ever, you guys! Because after flooding our social media feeds back in December with outtakes from their "25 Days of Christmas" family photoshoot, the Kar-Jenner crew is at it again — and this time, we'll get to see the trifecta of Dash doll newbies: Stormi, Chicago, and Baby True! Are you freaking out as much as I am? Khloe Kardashian's tweet confirming the Kardashian baby photoshoot just legit made my day! My only question is — am I gonna have to wait until NEXT Christmas to see the pics? Or will they roll them out for a different holiday this time? Like, say, Labor Day or the fourth of July? Oh, please let it be the fourth of July!
Over the weekend, Khloé hit up Twitter to chat about her adjustment to life as a mom over the last two months since giving birth to daughter True. In her tweets, the Revenge Body star also revealed that she just had pics taken of her little girl with her two cousins, Kylie Jenner's daughter, Stormi, and Kim Kardashian West's little girl, Chicago!
"We had a cousin photo shoot TODAY!!!!," she wrote. "It was the CUTEST 😍😍😍."
OMG, I seriously cannot WAIT to see this adorable crew in action! It was only a month ago — when Khloé was still in Cleveland and the Cavs still had a shot in the NBA finals — that Kim told Entertainment Tonight they were planning to get the trio together for a photo sesh, and now they've already made it happen and I'm honestly so impressed.
"The three little girls are gonna grow up together," Kim said at the time. "Chi and Stormi are just two weeks apart and then True is just a few months behind so that's really exciting. Me and Kylie and Khloe are planning one of those kids' photo shoots, just like a silly shot that we can have all the girls, 'cause Stormi and Chicago have so many pictures together. So, we can't wait for True to join the crew."
Last week, we got to see the first photo of True Thompson and Chicago West together, which Kim posted on Instagram as part of a birthday tribute to Khloé. In the pic, Khloé is holding both True and Chicago on her lap — and she looks pretty natural as a new mama, I must say!
"Happy Birthday to one of my favorite souls on this planet!" Kim wrote in the caption. "This year you have shown strength like none other. I admire you for always following your heart. I love seeing you as a mom and can't wait for the years ahead. Let's celebrate you today! I love you to infinity!"
This is seriously the sweetest thing. I mean, look at these two precious kiddos! And doesn't it already seem like they are growing up so fast? I know it was waaaay back in February, but it feels like it was just five minutes ago that Kim was hitting up her Instagram to share the very first pic of Baby Chi.
And then on April 16 came Khloé's announcement, also on Instagram, that True had been born.
"Our little girl, True Thompson, has completely stolen our hearts and we are overwhelmed with LOVE," she wrote in the caption. "Such a blessing to welcome this angel into the family! Mommy and Daddy loooooove you True!"
On May 26, the sweet baby girl made her first appearance on Khloé's feed:
And on June 30, Kylie finally posted an updated shot of Stormi on Snapchat, after deleting most of the other pics of her on social media:
Soooo cute! Are you guys loving all these pics of the girls as much as I am? I cannot wait to see them all together. When that will happen remains to be seen. But in the meantime, at least we'll always have this: