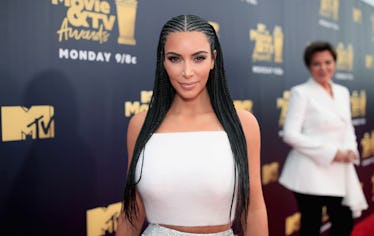 Kim K Accepted An MTV Movie & TV Award For Her Family, All Thanks To 'KUWTK'
Christopher Polk/Getty Images Entertainment/Getty Images
There's no question that Keeping Up With The Kardashians is one of TV's most popular reality shows. And that made it a top contender at tonight's MTV Movie & TV Awards. So, were the Kardashians at the 2018 Movie & TV Awards to bask in the limelight and potentially accept an award? Of course! And they accepted an award, too! Yep, Kim Kardashian accepted the 2018 Movie & TV Award for Best Reality Show and no one's surprised because, well, it's Keeping Up with the Kardashians. Of course it won!
Wondering who all showed up for the big night? Well, Kim Kardashian was there, as well as her mama Kris Jenner. And they looked great. As always.
As you may or may not know, the MTV Movie & TV Awards celebrates the absolute best in entertainment. The show has been given an overhaul in recent years and now includes broader categories to cover the ever-growing scope of film and television. It even includes gender-neutral categories, so there's a lot that goes into the show. And for the Kardashians, it's a big night.
For tonight's awards ceremony, the Kardashians were nominated for Best Reality Series. They actually had some pretty serious competition. Vanderpump Rules, RuPaul's Drag Race, The Real Housewives, and Love & Hip Hop were all nominated in the same category. And those shows are incredibly popular, so it's kind of a miracle that the Kardashians won. They've been on the air for so long, and they're still so popular. It's pretty amazing to say the least.
When the winner was announced, both Kardashian and Jenner made their way up to the stage to accept the award on behalf of the whole family. Neither mom nor daughter had very much to say, but what they did have to offer was short and sweet! Here's what Kim K had to say:
Wow, thank you so much. We've been on the air for 12 years almost now, so thank you to the fans that have been watching this long. And thank you to my family that keeps this all going.
Jenner, on the other hand, just gave a quick thanks to MTV, and that was that!
Fans had their fingers crossed that the Kardashian ladies (and accompanying gents) would take something home tonight. They've carved out a nice, comfy place for themselves in reality TV history. And they've most definitely solidified their legacies in pop culture. So, they 100 percent deserved to win this award — especially after all the drama they endured for the latest season.
To recap a little: First, there was the whole fiasco over Kim's Mexico paparazzi photos. Here was Kim's jaw-dropping reaction:
Kim also had a meltdown over her safety while in Mexico:
Then, later on in the season, the Kardashian sisters went to Planned Parenthood:
And then, of course, there was that time Kim and Kourtney fought over Kourtney's dog:
How about when Khloé found out she was pregnant?
Or when Kris Jenner shared her "Legacy Video" with her kids:
And in between all of that, Kim had baby number three (via a surrogate), Kylie Jenner had her very first child, Scott Disick started dating Sofia Richie, and Kourtney started dating a new guy named Younes Bendjima.
So basically, this season was a wild ride. But it always is when the Kardashians are involved. Needless to say, the Kardashians make for some riveting reality TV, and pop culture would be a lot less entertaining without them.
Thanks to MTV, the Kardashians got their due. Another accolade to add to their shelves in Calabasas!