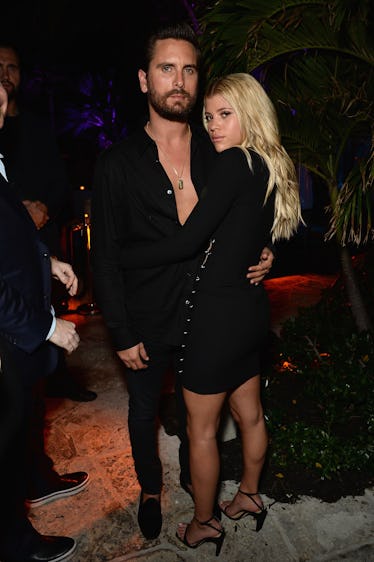 Scott Disick & Sofia Richie's Body Language Shows How Comfortable They Are Together
Andrew Toth/Getty Images Entertainment/Getty Images
We already know that body language can be quite powerful. It can reveal things about you that you don't even realize you're putting out into the world, and the same (if not more) goes for relationships. Scott Disick and Sofia Richie's body language, for example, says quite a bit about their comfort and happiness together, if you know what to look for.
Here's what we know so far about Disick's relationship with Richie. The pair were first spotted together in Cannes back in May 2017. Shortly thereafter, Richie (who is 15 years Disick's junior) squashed rumors that the two were together, tweeting, "Just so everyone can get their panties out of their asses, Scott and I are just homies #relax." That tweet has since been deleted. Fast forward to September 2017, when reports they were dating started surfacing as they were seen spending more time together in public.
In November 2017, a source told People that 19-year-old Richie was a great influence on 34-year-old Disick. The source added:
They've been traveling together to Mexico, New York and Venice and just hanging out. His friends adore her and nobody notices the age difference. She is very mature, she grew up in Hollywood and has always been in older situations. They seem really happy.
In February 2018, Richie talked to E! News about her bond with Disick, saying, "I just think he's the male version of me. Our humor. We have very similar humor."
To get some extra insight into Disick and Richie's relationship, I reached out to body language expert and author Tonya Reiman. Here's what she had to say.