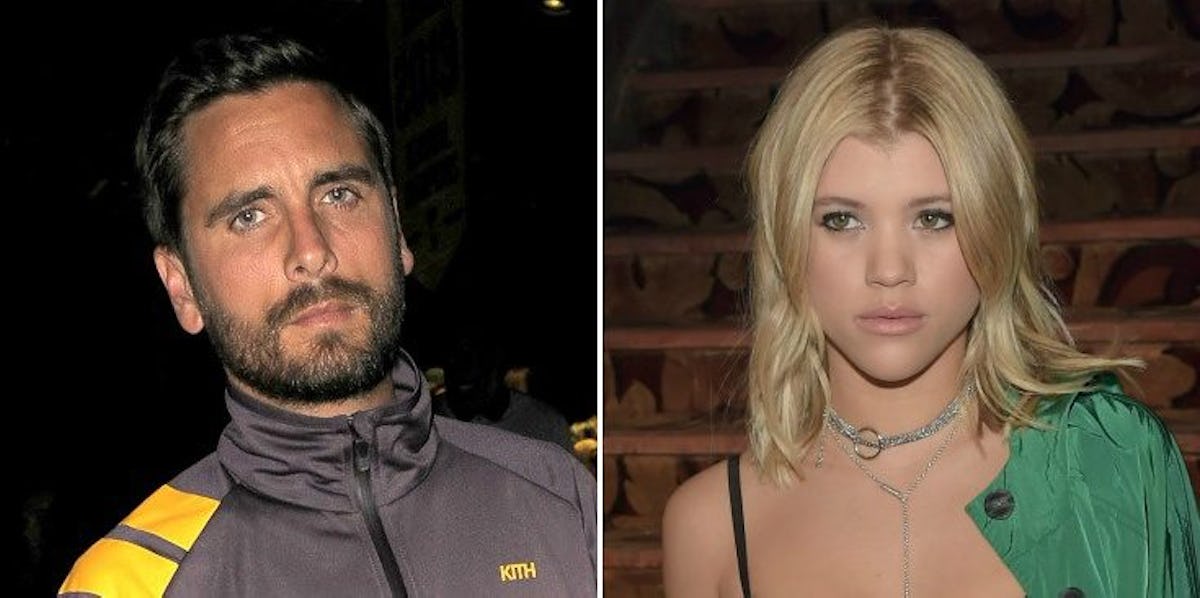 Here's Everything We Know About Scott Disick's Reported Fling With Sofia Richie
Getty Images/Chance Yeh, Jason Kempin
OMG, y'all. This is huge. This is really freakin' huge. Move over Justin Bieber because Sofia Richie is in the house, and she's rumored to be hooking up with Scott Disick. I know everyone already knew this, but still... I like talking about it. It's a big deal, OK? Although the pair is beautiful, what is the actual age difference between Sofia Richie and Scott Disick? It seems like a whole hell of a lot.
Elite Daily reached out to the teams of Scott Disick and Sofia Richie to confirm the reports, but did not hear back by the time of publication.
Disick and Richie have been spending a lot of time together over the last couple of weeks, and it's really freakin' exciting. According to People,
Since returning to L.A., Scott and Sofia are inseparable. They are spending every day together. Sofia seems smitten.
Who could have guessed that a beautiful, young model would fall in love with a father of three small children? That is a tree I would never bark up. Ever. The source also added,
It's obvious that she looks up to Scott. She constantly giggles around him. They are very flirty. Scott takes care of her, opens the car door and pays for everything.
Disick and Richie were first spotted together back in May of 2017 on a yacht in Cannes. Yep, they fancy. Apparently, that was the same time Bella Thorne went to Cannes with Scott Disick, so that's awkward. Was that an issue when they were all there at the same time? He is a playa! Whoop de whoop! After the two were spotted together in Cannes, rumors spread like wildfire.
It's obvious to some people that the two are a thing, and they shouldn't hide their love! Shout it from the rooftops! Disick and Richie have even been seen hanging out together around Calabasas, and people definitely think something is going on. So, who on earth is Sofia Richie?
Does the last name Richie sound familiar to you? Probably. That's because Sofia Richie is fashion mogul Nicole Richie's little step-sister. That would also mean Lionel Richie is Sofia's dad!  They are a seriously famous family.
Exactly how old is Sofia Richie? The model is 19 years old, and Disick is 34. For all of you out there that suck at math, that makes Disick 15 years older than Richie. Quick note: Bella Thorne is also 19, so Disick could have a thing for younger women. Some may think that's a little creepy. I have no comment on this matter. Although, I do remember thinking 30-year-old guys were creepy back in my teenage years. Sorry, not sorry. But hey, different strokes for different folks.
So, will this fabulous fling turn into something serious? It's possible. Twitter will most likely be outraged because of the enormous age gap, but who really cares? After all, this isn't the first time we've seen a celebrity couple with a crazy age gap. Angelina Jolie and Brad Pitt are 12 years apart, Donald Trump and Melania are 24 years apart, and Ryan Reynolds and Blake Lively have an age gap of 11 years. I can't believe that one. *Gulp*.  So, if it's love, let them be in love. If it's lust, let them lust. If it's a media ploy, how very dare you mess with us!
Good luck out there, you two! Don't let society tell you how to live. Disick, keep your head up. The paparazzi pictures of you guys are very flattering. I have to pose in photos to look decent. So, at least you're doing something right.