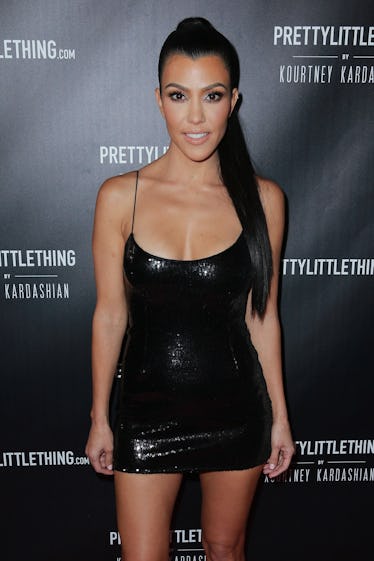 Kourtney K & Her Boyfriend Showed Major PDA In His First Appearance On 'KUWTK'
Rich Fury/Getty Images Entertainment/Getty Images
There's A LOT to unpack after the March 4 season finale of Keeping Up With The Kardashians. We got to see a still-pregnant Kylie for the first time in, like, forever. We got to meet Kim's surrogate, Lorena. We found out that Khloé and Tristan Thompson are having a baby girl. And Kourtney's boyfriend, Younes Bendjima, made his very first appearance on the reality show! This is SO major, you guys, since we all know how much Kourt likes to keep the relationship on the down low! But the video of Kourtney Kardashian and Younes Bendjima on KUWTK is seriously the cutest thing ever, and now I just want to see MORE. I am so here for a spinoff, E! Just saying.
Anyway, what happens in the episode is this: Kourtney was kicking off her Pretty Little Things line, and Bendjima showed up at the launch event to surprise her!
"What are you doing here," Kourt asks him as a big smile breaks out on her face.
"You thought I would not come?" he asks. "I was like, 'I have to support you!'"
"Thank you," Kourt says, clearly elated. Then she wraps her arm around his neck and pulls him in for a kiss — and these two are seriously the cutest couple ever! Just skip to 1:30 and watch the whole thing go down for yourself because I swear it's so worth it.
It's OK if you want to go back and watch it more than once. I have no prob admitting that I did. Because here's the thing: I've seen plenty of pics of Bendjima on social media, but I've never really understood his appeal. I mean, he looks cute and all in some the shots Kourt's posted of him, but I have never seen a video of him before since this was his very first appearance on the show. And I'm not gonna lie — he is so freaking adorable in this clip!
Meanwhile, fans over on Twitter seem to be digging the PDA-filled moment between these two just as much as I am.
Same.
The couple started officially dating back in December 2016, and Kourt detailed their initial encounter on an episode of Keeping Up With The Kardashians.
"He was friends with our friends," she explained on the show. "He would walk in, say hi, shake hands with like our security or whatever, but like not say hi to us. And then I was like, 'Why do you hate us?' I was just drunk. Once I said that he literally like grabbed my hand and was like, 'It's five in the morning. We're leaving.' And then next night Younes was like, 'Bring your a*s here.'"
Not super romantic, but who am I to judge? The pair later became Instagram-official the following Halloween, when Kourt posted a shot of them dressed up in spot-on Bonnie and Clyde costumes.
She remained hesitant about letting the public in on the details of her relationship, however, and didn't post any more pics with her 24-year-old boxer-turned-model BF until December, when she shared this beautiful, sparkly image on both Instagram and Snapchat. She captioned it, "Only 1 star in this picture."
Not sure if she was referring to Bendjima or herself, but whatevs. Then on Jan. 4, we were treated to another glittery, romantic image of the pair, this one from New Year's Eve. It was captioned, "dancing by the moon," and featured Bendjima dipping Kourt under a bunch of illuminated trees. Over on Snapchat, she shared a more playful image from the same night, of the two of them dancing to some good old '90s R&B.
Wondering what they're breaking it down to? Yeah, me too. Though TBH, I'm getting a distinct "Tick tock, you don't stop" vibe here so my money's on Color Me Badd's "I Wanna Sex You Up."
For the record, Bendjima wasn't even around when this song came out in 1991 since he wasn't born until 1993. Kourt was though, since she's 38. Best cradle robbery ever!