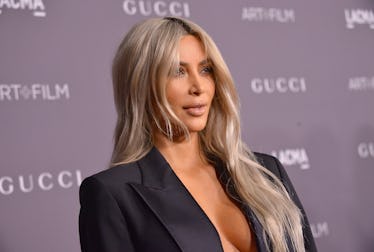 Kim K's New Photo Of Saint West Playing In The Pool Is So Adorable, It Hurts
Charley Gallay/Getty Images Entertainment/Getty Images
No matter what you think about Kim Kardashian, you simply can't deny that she's one proud mama bear. Yep, the mother of three is 100 percent devoted to her little cuties and she lets the world know just how much they mean to her every chance she gets. And Kim Kardashian's photo of Saint West playing in the pool is no exception.
Kardashian posted the photo of her 2-year-old son on Instagram on Monday, June 18. In the photo, Saint can be seen having a great time in the pool. Kardashian included a caption with the photo that reads, "My favorite boy." The reality star is clearly feeling especially proud of Saint right now. Perhaps, he's just getting the hang of swimming and she's wanting to show that off. Or maybe she just wants to pay him some special attention. After all, Saint's big sister, North West, has been getting a ton of attention on Instagram lately, especially since her birthday just passed.
So, it seems that it's Saint's turn to take center stage for a while, which is great. I love that Kardashian tries to be fair and give all her little ones some time in the limelight.
Here's the photo of Saint she posted on her Insta:
Look at that face! He is too adorable!
Kardashian has been posting loads of pictures of her children on social media lately. She also posted this photo of herself and Saint just a few days ago:
As previously mentioned, Kardashian's daughter North just celebrated her birthday. The little one turned 5, and her parents marked the special occasion with a massive birthday celebration.
Here's a snap from the big day:
North, whose birthday is June 15, celebrated her big day alongside Kourtney Kardashian's daughter, Penelope Disick, whose birthday is July 8. So, basically, the party was a family affair. And Kardashian used her Instagram account to chronicle it.
Here's North and Penelope taking a ride on a blow-up rainbow in the pool:
So cute!
But that's not the only family memory Kardashian has shared in recent days. On Saturday, June 9, she also posted this pic of her snuggling up with all three of her kids, which is super sweet:
And, of course, she snapped a pic of hubby Kanye West with their youngest child, Chicago:
And then there was the family excursion to Wyoming, which looks awesome if I do say so myself:
The family traveled to Jackson Hole, Wyoming, back in May 2018 so West could concentrate on making new music. West's new album was released on June 8 and it's been getting some mixed reviews. But hey, at least he got some quiet family time out of it, right?
More recently, though, Kardashian posted a really sweet pic of her husband and their oldest daughter for Father's Day:
And she captioned it with an equally sweet message:
Happy Father's Day babe. Thanks for being such a good dad to our babies! Shout out to all of the amazing dads out there! 💕
It's so clear how much Kardashian loves being a mom. Her devotion to all three of her kids is a truly inspiring thing and it seems like a quality she inherits from her mother, Kris Jenner. Jenner, as you probably know, is equally dedicated to all her children. They probably wouldn't be where they are today without her. And I'd bet anything that Kardashian is going to be the exact same way with her little ones.
It's so great to see a mom who puts her family first, no matter what the naysayers think or say. Respect!