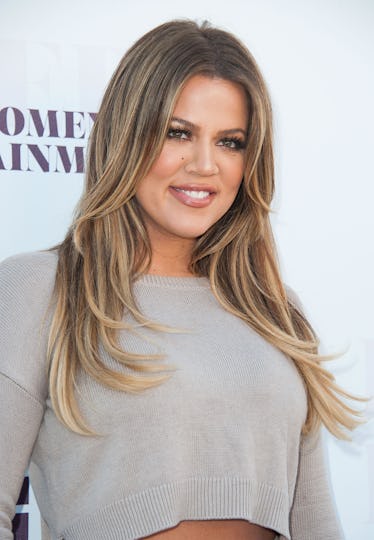 Khloé Kardashian Blessed Us All With More Videos Of True & She's Adorable
Valerie Macon/Getty Images Entertainment/Getty Images
I think I speak on behalf of everyone when I say we all needed a True Thompson video, like, so bad. Khloé Kardashian has basically remained in hiding since the arrival of her firstborn, and I understand why. The last few days of Kardashian's pregnancy were so bumpy, thanks to reports circulating about her boyfriend and baby's daddy, Tristan Thompson, reportedly kissing other women. Elite Daily reached out to Kardashian and Thompson's teams regarding the reports but did not hear back by the time of publication. Fans have been wondering how Kardashian is doing, and even more specifically, how is baby True? Khloé Kardashian's videos of True Thompson are a total breath of positive, fresh air during an otherwise confusing and dark time for the middle Kardashian/Jenner sibling.
True was born on April 12, 2018, and the world was overjoyed. Fans have watched for actual years as Kardashian has talked about becoming a mother one day. When she and Thompson finally confirmed they were expecting, fans couldn't be happier. In the initial pregnancy announcement, Kardashian thanked Thompson for "making her a mommy" and "treating her like a Queen." Everything genuinely seemed too good to be true. (No pun intended. Seriously.)
Then, essentially as Kardashian was going into labor, the public found out Thompson allegedly cheated on her with multiple women. The timing could not have been more intense. While fans rallied around Kardashian, they were still not-so-secretly desperate for a look at baby True, too. A whole month later, they finally got their first peek.
Kardashian began posting videos of sweet True on Snapchat and made a little video for Mother's Day. Not surprisingly, True is the most adorable creature on the face of the earth.
Please look at this face.
I SAID LOOK AT IT.
On Mother's Day, Kardashian snapped a filtered "hello" to fans and included a quick pic of True sleeping at the end.
With all of the drama swirling around her relationship, KoKo stuck to the basics and talked about her workouts and wished everyone a Happy Mother's Day.
While both Kardashian and Thompson haven't posted anything together in a while, they have been spotted out and about. The two were caught grabbing a bite together in Cleveland and even saw a movie matinee. According to sources, they are going to try to make it work.
An insider told E!, "Khloe has given Tristan another chance at their relationship, and is trying to put the pieces back together for the sake of True." The source added, "Things are more complicated now that there is a child involved, but it was causing more stress on Khloe by being in limbo with Tristan. Khloe decided that the back and forth and indecisiveness on what they were going to do was taking a toll on her." Elite Daily reached out to Kardashian's team for comment on the report but did not hear back by the time of publication.
However, it doesn't sound like Thompson gets to just waltz back into their lives. According to the insider, Khloé has set some "boundaries." They explained,
Khloé has definitely set guidelines and boundaries for their new chapter. She wants to make sure she is not embarrassed and heartbroken again, but everyone is warning her. Khloé has a huge heart and once she falls, it's hard for her to give up on someone she cares deeply about. She has been in a rough spot this past month.
Thompson has reportedly moved back in with Kardashian and True and is ready to make things right. "He has vowed to change and she feels that he has learned his lesson. All eyes will be on him and he doesn't want to ever let Khloé down again," said the source.
Honestly? Whatever makes baby True happy is what makes me happy, too. And that's the truth. (Sorry.)