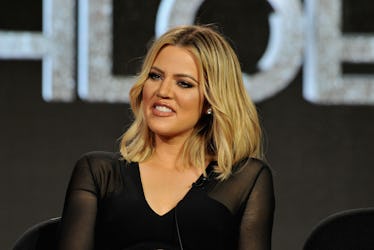 Khloé Kardashian Just Revealed How She'll Spend Her First Mother's Day & It's Surprising
Jerod Harris/Getty Images Entertainment/Getty Images
So many new Kardashian babies, so many new Kardashian moms! Khloé Kardashian just had her first baby, True, in mid-April and is coming up on her first month anniversary as a new mommy. According to reports, it sounds like Khloé Kardashian will spend her first Mother's Day "hibernating" with her wee one, which sounds totally perfect to me. No big event, no elaborate brunch, no family. Just Khloé and True. (And no mention of Tristan Thompson, I might add.) There is a lot of drama surrounding Kardashian and her relationship with True's father, and a day of just her and baby sounds like the perfect way to get away from the noise and stress.
Despite the rumors about her boyfriend (and baby's daddy) cheating on her, Kardashian has kept up with her app and letting fans in on her life here and there. On Wednesday, May 9, KoKo wrote about her Mother's Day agenda and what she hopes she and True will get up to. Kardashian wrote,
I've always loved Mother's Day and celebrating Kris Jenner, [grandma] MJ and my sisters -- but this year will be even more special because now I'm a mommy, too! As of now, there aren't any special plans (that I know of, LOL). I'm really enjoying spending quality time with True and loving just hibernating with her.
Yup. Checks out. Outside, there are paparazzi and haters, and videos claiming Thompson was caught kissing other women, but inside is this incredible nursery and baby True. Elite Daily reached out to Kardashian and Thompson's teams regarding the cheating reports but did not hear back by the time of publication.
I'd pick hibernating too.
Still, if you think Kardashian is one to just sit around and do nothing all day, think again. One thing fans know she loves and has missed during her pregnancy is hitting the gym. Earlier in May, Kardashian commented on the first public photos of her post-baby body and how she can't wait to get back into her workout routine. She was photographed going on a stroll with baby True, and looked damn good.
She wrote about the photos on her app, saying, "I couldn't believe how big my booty looked! I can't wait to tone up again and get my body back to where it was," She added later, "I'm actually proud of myself for not being as big as I assumed I would be, LOL—but I'm ready to start getting my body back and feeling mentally clear again... Bring on summer and the hard work—I got this!"
She also said her doctor gave her the green light to get back to her workouts with her trainer Coach Joe, and that she's been "counting down the days."
In fact, it looks like Kardashian might be a little restless all the way around. Along with the baby walk, she and Thompson were spotted attending an afternoon movie matinee on Tuesday, May 8, and snagging food together in Cleveland earlier in the week. Sources claim Kardashian is ready to make it work despite the cheating scandal and ready to move forward. According to one source, Thompson is willing to make things right with his daughter's mother, too. The insider told E! News,
[Khloé] can't imagine being a single mom and giving up her dream life she had planned with Tristan. People make mistakes and she has found it in her heart to forgive him. He has vowed to change and she feels that he has learned his lesson. All eyes will be on him and he doesn't want to ever let Khloé down again. Khloé doesn't care what anyone thinks about what's she's doing. It's her life and this was her decision and only her decision. That's all that matters.
There's no telling if Thompson will be a part of the Mother's Day Hibernation Fest, so fans will just have to wait and hear it from Kardashian herself.
Check out the entire Gen Why series and other videos on Facebook and the Bustle app across Apple TV, Roku, and Amazon Fire TV.