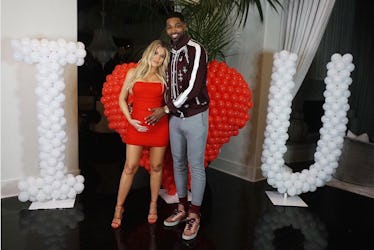 Khloé K & Tristan Thompson Were Just Spotted Together Again, So Forget A Breakup
I am on an emotional rollercoaster ride called the Khloé Tristan Drama Mama. I'm invested in their relationship just slightly less than I'm invested in my own relationship with my perfect dog, Linda, which is really saying something. According to new photos obtained by TMZ, Khloé Kardashian and Tristan Thompson went to the movies, and I can only assume that means they aren't breaking up. Even though reports are still circulating saying Tristan Thompson repeatedly cheated on her, Kardashian hloé seems to be doubling down on her relationship with her daughter's father. Elite Daily reached out to Kardashian's team for comment on the cheating rumors, but did not hear back by the time of publication.
To make the longest, saddest story short, just when Kardashian was going into labor, videos surfaced claiming to show Thompson kissing multiple other women. On April 12, 2018, Kardashian gave birth to their daughter, True, at the same time the world was rioting about her relationship. While the Kardashian family stayed quiet for some time out of respect for Khloé, Kim K eventually did go on the record, telling Ellen DeGeneres the situation is "so f*cked up."
Now, Kardashian and Thompson are catching weekday matinees together. TMZ spotted the pair out at the movie theater on Tuesday, May 8, grabbing snacks at the counter and leaving in the same car. Reports are also saying Kardashian made the decision to see things through with Tristan. Elite Daily reached out to Kardashian and Thompson's teams about the report but did not hear back by the time of publication.
I mean, if there's one thing fans know about Klo-Money, it's that she's loyal AF. It totally makes sense if she prefers to find a way to work things out with her daughter's father and keep the family together. An insider told E! News Thompson has moved back in and he and Kardashian are "full on." They explained,
Things are more complicated now that there is a child involved, but it was causing more stress on Khloé by being in limbo with Tristan. Khloé decided that the back and forth and indecisiveness on what they were going to do was taking a toll on her. She wants to brush things under the rug and move forward.
The source expanded,
Khloé has definitely set guidelines and boundaries for their new chapter. She wants to make sure she is not embarrassed and heartbroken again, but everyone is warning her. Khloé has a huge heart and once she falls, it's hard for her to give up on someone she cares deeply about. She has been in a rough spot this past month.
Obviously, a huge amount of the effort needs to come from Thompson, but it also sounds like he's up for the challenge. The insider said he's "trying very hard to repair the relationship since True was born... He knows his actions are embarrassing and hurtful but he wants to turn over a new leaf. He has promised many things to Kardashian, and is trying to make her happy again." Additionally,
[Khloé] can't imagine being a single mom and giving up her dream life she had planned with Tristan. People make mistakes and she has found it in her heart to forgive him. He has vowed to change and she feels that he has learned his lesson. All eyes will be on him and he doesn't want to ever let Khloé down again. Khloé doesn't care what anyone thinks about what's she's doing. It's her life and this was her decision and only her decision. That's all that matters.
Fingers and toes are all the way crossed over here, Khloé. Just remember you are a diamond in a sea of pebbles, a sun that never sets, and the funniest family member. There, I said it.
Check out the entire Gen Why series and other videos on Facebook and the Bustle app across Apple TV, Roku, and Amazon Fire TV.