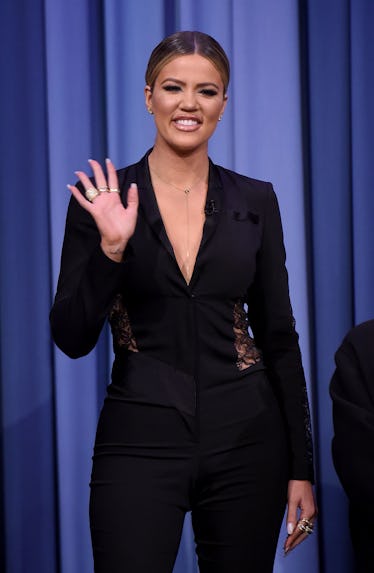 Khloé Kardashian Opened Up About Those Post-Baby Paparazzi Photos & It's Everything
Jamie McCarthy/NBC/Getty Images Entertainment/Getty Images
No one would put it past Khloé Kardashian if she was feeling a little negative lately. As she was going into labor, rumors were simultaneously circulating that her baby's father and her long-term boyfriend, Tristan Thompson, had cheated on her. It was a lot to take in. Elite Daily reached out to Kardashian and Thompson's teams for comment on the cheating allegations but did not hear back by the time of publication. Fans had been so ecstatic for Kardashian and her seemingly ideal relationship, and in a matter of weeks, it all looked like it was beginning to unravel. Now, new pictures of Kardashian walking baby True have gone public. Awesomely, Khloé Kardashian's reaction to her post-baby photos is super positive, reminding all of us nothing can keep this Queen down.
Kardashian was caught walking True out and about in Cleveland Park during the weekend of May 5. She was strolling in an all-black ensemble, loose hair, and epic sunnies. True was covered up with a sweet blanket, and KoKo was nothing but smiles. Sometimes, celebrities aren't totally in love with paparazzi snapping pics of them and their families, but in Khloé's latest blog post, she describes how she feels confident about the way she looks now and how she's excited to get back into the gym. If there's one thing we know about her, she's a huge gym rat, and being away from her workouts has been tough.
Kardashian wrote, "I couldn't believe how big my booty looked! I can't wait to tone up again and get my body back to where it was." She also talked about how her doctors have cleared her for workouts and how she's jazzed to sweat it out. She explained:
I'm super excited because my doctor finally cleared me this week to work out, and I'm going to meet with Coach Joe! I've literally been counting down the days...
I'm actually proud of myself for not being as big as I assumed I would be, LOL—but I'm ready to start getting my body back and feeling mentally clear again... Bring on summer and the hard work—I got this!
Yeah girl, you so do. It sounds like she's bringing the same optimism to her relationship, too.
Despite the cheating scandal, new reports are saying Kardashian and Thompson are going to try to make things work between them. An insider told E! News Tristan "knows" he messed up in a big way, and it sounds like Khloé is giving him a second chance with some strict guidelines. The source explained, "Khloe has given Tristan another chance at their relationship, and is trying to put the pieces back together for the sake of True." Elite Daily reached out to Kardashian and Thompson's teams for comment on the report but did not hear back by the time of publication.
The insider added,
He has fully moved back in and they are a family. He made a promise to Khloé and it was enough for her to take him back. She can't imagine being a single mom and giving up her dream life she had planned with Tristan. People make mistakes and she has found it in her heart to forgive him. He has vowed to change and she feels that he has learned his lesson. All eyes will be on him and he doesn't want to ever let Khloé down again. Khloé doesn't care what anyone thinks about what's she's doing. It's her life and this was her decision and only her decision. That's all that matters.
Allegedly, Thompson is up for the challenge. He's "trying very hard to repair the relationship since True was born," said the source. "He knows his actions are embarrassing and hurtful but he wants to turn over a new leaf. He has promised many things to Khloé, and is trying to make her happy again."
He freaking better.
Khloé, as usual, you look incredible. Your fans can't wait to meet True and are rooting for you all of the way in all of the ways.
Check out the entire Gen Why series and other videos on Facebook and the Bustle app across Apple TV, Roku, and Amazon Fire TV.