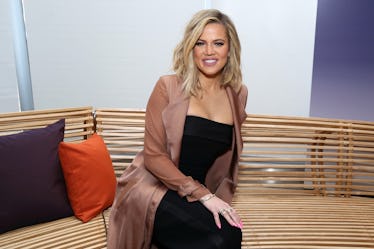 Khloé Kardashian Gushed About Baby True On Twitter & It's Everything
Cindy Ord/Getty Images Entertainment/Getty Images
KoKo fans might want to head over to Twitter, because Khloé Kardashian was serving up truths about motherhood on Saturday morning, and she did not hold back. It's been months since the fitness guru gave birth to baby daughter True, and she's unashamedly still adjusting to that mom life. TBH, Khloé Kardashian's Tweets about True and "mom guilt" are so relatable, and they're just another reason why she's my favorite Kardashian.
On Saturday, July 28, the youngest Kardashian daughter decided to take to her official Twitter account to air her musings on parenthood — as well as baby True's famous cousins — and she got surprisingly real while responding to questions from her followers. Now that it's been just over three months since giving birth to her baby girl, KoKo got vulnerable while talking about the best and worst parts of being a parent.
"The worst part is the mom guilt," she responded to one of her followers. "It's a real thing. You feel guilty at all times if you have to leave her side. Or really for anything. The best part is everything about her! The unconditional love and the fact that I get to raise a beautiful, strong and intelligent young lady."
Considering that celebrity moms are shamed on the regular via social media just for taking any time for themselves (Chrissy Teigen is a prime example), I can just imagine a chorus of women nodding their heads in agreement with this.
In between fielding questions about her post-baby body ("Body after baby is definitely not the same," she admitted. "My body… Will it ever go back to normal LOL it's a mindf*ck), Khloé also revealed that she'd originally been hoping for a boy while she was pregnant because of her close bond with nephew Mason.
"God blessed me with my precious True and now I wouldn't know what to do with a boy. True has made me sweeter and more gentle. God gives you what you need. My BFF 4Life," she tweeted. Aw so sweet.
That being said, one bundle of joy is more than enough for now. She told one user that she's not thinking about having another baby right now, especially when baby True has her two baby cousins to play with.
Now, for the question on everyone's mind: When are Chicago, True, and Stormi having their photoshoot? According to KoKo, it's up to "her boss KiKi," aka older sister Kim Kardashian, and I'm staying tuned. With the newest members of the Kardashian clan being as adorable as they are, I already know it's going to be the epitome of cuteness when it happens.
This isn't the first time Kardashian has aired her thoughts about motherhood on the social media platform. Aside from sharing a precious post of baby True every now and then, the new mom has also admitted to the occasional parenting mishap, like forgetting her daughter's birthday was on April 12, not April 10.
Because it's Khloé Kardashian, she responded with her typical humor, and it was hilarious. Plus, how many people can relate? Leave it to the reality star to always keep it real.