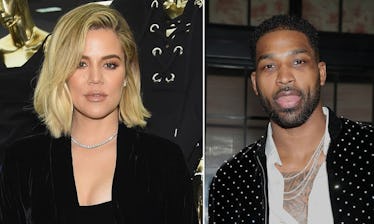 Tristan Thompson Left The Sweetest Comment On Khloé K's Photo Of True & Her Response Is Epic
JAMIE MCCARTHY/GETTY IMAGES; CASSIDY SPARROW/GETTY IMAGES
We haven't heard much from Khloé Kardashian about where her relationship with Tristan Thompson currently stands following the whole rumored cheating scandal thing. But the pair has certainly been leaving clues for us all over social media — and all signs point to Reconciliation Town. I mean, we've seen the NBA star dancing with the couple's daughter True on Kardashian's Snapchat, and we've even gotten a glimpse of Khlo-Money kissing her man in one of Thompson's Snaps. I'm not gonna lie — I'm still totally mad at the dude for reportedly stepping out on my girl, KoKo. But Tristan Thompson's comment on Khloe Kardashian's photo of True that she shared on Instagram is actually super sweet, and now I'm kind of on board. So lemme tell you what went down and you can make your own judgment call.
The Revenge Body star hit up her Insta feed on July 15, where she shared not one, but two adorable pics of her new baby girl decked out in a frilly white eyelet matching set with a matching hat. "Mood," she wrote in the caption of the first shot, which captured the little munchkin mid-yawn. "PS why are rolls soooooo cute on babies?!"
It's a good freaking question, isn't it? Or better yet — at what age do they stop being cute? Asking for a friend.
Anyway, Thompson — who, you'll recall, allegedly cheated on Khloé while she was pregnant — wasted no time rolling up in the comment section, where he posted the succinct but seriously sweet response "My princess," along with the crown and red heart emojis. Then Kardashian responded back to him with her own red heart emoji, and OMG what on earth does all of this mean?
Like, are they back on good terms for real, for real? Is all officially forgiven? Or did someone change the meaning of the red heart emoji to, "It's totally complicated and I still don't really trust him but he's the father of my baby so Imma go ahead and give him a second chance?"
I need some answers here, people!
Meanwhile, on July 11, Kardashian posted a video of Thompson with baby True. And, like, why would she do that if she wasn't totally vibing with him? In the clip, the Cleveland Cavalier is holding his little girl and humming and dancing around while Kardashian laughs in the background.
It's all ridiculously cute and I have to admit that I'm here for it. But, um, is that True's nursery? Why does she have a nicer room than me? And what is that amazing light fixture and where can I get one?
Thompson shared his own Snapchat video a few days earlier. Only is his, we got to see the pair together — and I mean TOGETHER, as in they shared a serious PDA sesh.
First Kardashian rested her head on Thompson's chest. Then he leaned in and kissed the top of her head. And then — THEN! — the two of them actually kissed on the lips and TBH I don't know how I actually feel about all this.
The whole thing looks pretty awkward to me. But Tristan seems like a good dad, True is surrounded by lots of love, and if Khloé's happy, then I'm happy.
Best of luck, sis.