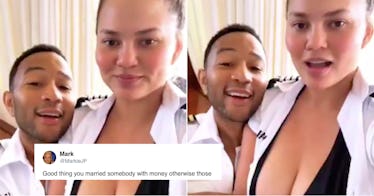 Chrissy Teigen Blasted Haters For Shaming Her Over Her Cleavage With The Most Epic Clapback
Twitter
Hell hath no fury like Chrissy Teigen on Twitter. It seems like the gorgeous model and mom of two can never get any slack for pretty much anything she does (for reasons completely unbeknownst to me, I might add), and the newest ~situation~ is no different. While she's been trolled and body-shamed in the past, she always comes up with the wittiest and most epic clapbacks and basically allows new moms, and women in general, to breathe in a sigh of relief for shutting down anyone and everyone who dares to give unsolicited advice. And now, Chrissy Teigen's response to haters who shamed her for having cleavage deserves to be in a hall of fame somewhere because it is just that good.
Chrissy Teigen reminded us all once more that she's just like us by posting a Twitter video that involves her love for the Bravo television series Below Deck. In the video, we see Teigen sitting on her husband John Legend's lap, looking gorgeous as anything in a nautical-inspired white button-up. In the video, Teigen starts off by saying, "I'm the chief stew," and John Legend adds, "I'm the captain." Tiegen yells, saying, "No! You're the bosun! God!"
She posted the video on July 15, with a caption that read,
John and I are pretending to be on "below deck" aka one of the best shows on television
She's not lying, TBH. That show is a pure gem and everyone should be binge-watching the hell out of it because it's surprisingly addicting.
Instead of everyone agreeing on the caliber of the Bravo series, though, some decided to instead body-shame Teigen for showing her cleavage in the video:
Is... is this some sort of a joke?
I'm sorry, but I just don't want to even fathom living in a world where this is the kind of response that we give to a woman who has a newborn baby.
But as we all know quite well, Chrissy Teigen doesn't need anyone to swoop in and come to her aid, because our girl can do that all on her own. She clapped back at the Twitter trolls almost immediately, writing,
I am a nursing mother don't shame me I couldn't close my shirt I'm just trying to do my job
Somebody get this woman a medal, please.
Upon responding to the trolls, fans of Teigen immediately came to her defense, supporting her and sharing their own breastfeeding stories:
Round of applause for Chrissy Teigen, y'all.
And you'd think that the Twitter trolls would have gotten the message by this point that Chrissy Teigen DGAF, but clearly, they haven't gotten the memo just yet. Last week, Teigen's response to her breastfeeding photo was absolutely iconic, after she posted a picture of herself cradling baby Miles in one arm and one of Luna's baby dolls in another. While she's actually breastfeeding Miles, the photo looks as if she's also breastfeeding the baby doll, and Teigen explained the photo in her caption, writing, "Luna making me feed her babydoll so I guess I have twins now."
Classic Chrissy Teigen, amirite?
But of course, nothing Teigen does or says can be taken as exactly what it is, which is good fun, and people have to insert themselves into a conversation they clearly don't belong in. According to JustJared.com, one troll tweeted, "I think it's perfectly fine for women who breastfeed in public. They are doing it because they need to. When you post on social media that you are doing it, it comes across as narcissistic though." The post has been taken down, but not before Teigen replied directly to the Twitter user, writing, "Nah. Just chillin. Posting daily life like I do with anything else. Cooking, playing with dogs, etc. You make feeding a baby big deal because you got weird t*tty issues."
Yes, girl! Yes!
While we all wish that the trolls would finally learn that Teigen is not someone you can mess with, I think I can say with fair certainty that we'll just keep on enjoying watching Teigen roast them all with just a few clicks of a phone keyboard.
We love ya, Chrissy.