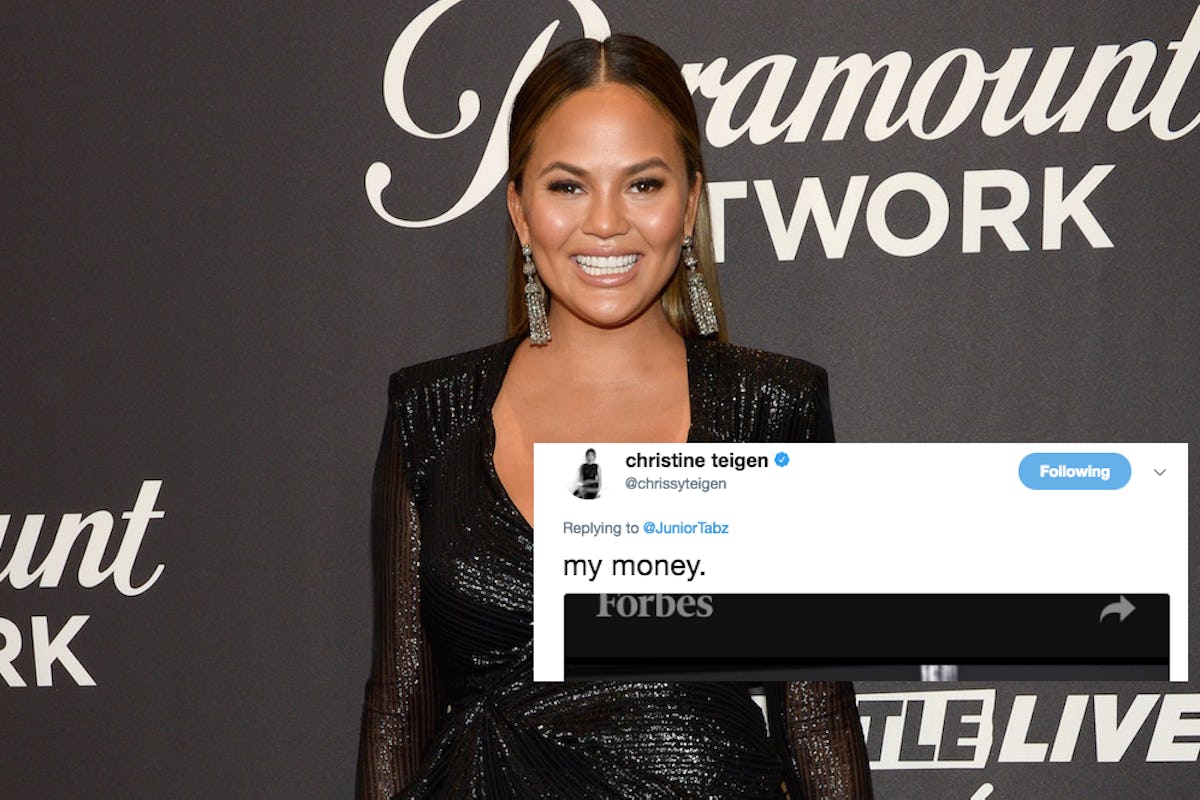 Chrissy Teigen Had The Perfect Clapback To A Twitter Troll & You Need To See It
Tara Ziemba/Getty Images Entertainment/Getty Images
Oh, how I love Chrissy Teigen! The gorgeous model mama is famous for her epic clapbacks on social media, whether it's shutting down the haters who think she's holding her daughter the wrong way, or shading the ones who dubbed her the worst mom ever that time she left her little one home with a sitter. No surprise, then, that she had the best response to a Twitter user who recently tried to get all up in her business. Trust me when I tell you Chrissy Teigen's money clapback on Twitter will have you saying "Yas, Queen."
Here's how it all went down: On Sunday, Feb. 11, Teigen — who is currently pregnant with her second child, a boy — was just hanging at home, innocently doing her thing. By which I mean she was Snapchatting while she cooked up the perfect rack of lamb for dinner with her husband John Legend. TBH, I am a huge fan of Teigen's cooking videos on Snapchat, and I have actually attempted to copy her recipes on more than one occasion. You haven't lived until you've tried her homemade banana bread. Like, for real, guys, you should make it. Anyway, this time, Teigen's entire scrumptious-looking entree — and what looks like a side salad? — somehow ended up on the kitchen floor.
Such a bummer. But, I mean, it happens to the best of us, right? And of course, because she's, you know, Chrissy freaking Teigen, our girl went and ate the meal anyway.
Love. Her. Sadly, the hilarious story doesn't end there. Because some dumb guy had to go and insert himself into Teigen's debacle by throwing a whole bunch of unwarranted shade her way.
"All you do is eat, sleep, sh*t, and spend other people's money," he wrote. "My perfect partner."
OK, like WHAT?! Who even are you, and why are you ragging on Chrissy Teigen? And what is up with that rando compliment tacked onto the end of your tweet? Is that like writing "LOL" at the end of an obnoxious text to try an negate its real meaning? Because I am SO onto you, man. This poor dude clearly had no idea know who he was messing with here, and it was only a matter of time before Teigen rolled up on Twitter to eloquently and succinctly let him know who's boss — and who was named the third highest paid model in the world by Forbes.
Yessss, mama! Tell 'em! I am seriously obsessed with the way Teigen is able to successfully shut down her haters. Two words — that's all it took to make her point. And in the age of #MeToo and #TimesUp, this was clearly the clapback we all needed. Just check out the way Teigen's fans responded on social media:
Um, yeah, I'm gonna need those shoes.
By the way, this was the second time on the same day that Teigen made waves on social media with a food-related post. The Cravings cookbook author took to Instagram a few hours earlier on Sunday, Feb. 11 to post a picture of herself getting ready to toss a salad while topless, save for a couple of strategically-placed salad bowl emojis.
I just straight-up love this woman! How is she not everyone's favorite celebrity ever? She is legit the only women on earth who can toss a salad while naked and get away with it.
"Plz don't shame me I am a strong proud salad making woman just being natural and trying to live my life," she wrote in the caption of the image, which also showed off her beautiful, pregnant belly.
I don't know about you guys, but I am so here for this, although I will never be able to look at those salad emojis in quite the same way again. Slide over, peach — looks like you've got some company.