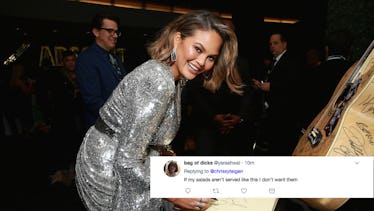 Chrissy Teigen's Topless Salad-Making Instagram Literally Broke The Internet
Robin Marchant/Getty Images Entertainment/Getty Images
I don't know about all of you, but Chrissy Teigen's topless Instagram seriously made my Sunday. The supermodel, Twitter star, icon, and chef is known for her witty one liners and amazing clap backs, and her Sunday, Feb. 11 post is no different. The social media queen strikes again.
The Instagram, which was posted on Feb. 11, features a topless Teigen whipping up a salad in her kitchen while well-placed illustrated salads cover her lady bits. A stellar red lipstick smile paints Teigen's lips as the cherry on top.
Plus, she is absolutely glowing with that baby bump.
While the photo itself already totally won the internet, it's the caption that really seals the deal.
"plz don't shame me I am a strong proud salad making woman just being natural and trying to live my life," Teigen wrote on Instagram.
Teigen is not only known for rocking a Sports Illustrated cover, but also killing it in the kitchen. She's the author to New York Times Bestselling cookbook Cravings, which was published on Feb. 23, 2016. The cookbook received huge acclaim from the likes of Eater Refinery29, Jezebel, and currently holds a five-star rating on Amazon. Featuring a number of different recipes for any time of the day, along with personal anecdotes and hilarious descriptions, this cookbook might have you doing a spit take or two.
And suddenly, everyone is craving salad.
In classic Chrissy Teigen fashion, her Instagram post garnered a huge uproar among the internet.
Without a doubt, Chrissy Teigen is a force to be reckoned with. This Instagram post is just one example of Teigen ignoring the haters and being proud of expressing who she is. Not only is she a total internet personality, but she's an outspoken role model for young women and men alike.
While speaking at Los Angeles' Beautycon Festival in 2017, Teigen discussed her battle with insecurities, especially in today's social media age.
She said,
There have been times I've cried to John, where I felt like I would never have 'that' body. Everyone has a butt now, and curves, and a little waist, and that's not me. I'm jealous of those bodies and I want that, but I also feel like I really want to be cool with my body because of people like you guys. That's why I don't post many makeup selfies, because I don't feel anyone knows what a real face looks like anymore and it kills me that we have to completely wash a face or body out for it to get likes. My old ass will go on social media, and I will look at the Photoshopping, Facetuning, and the apps, and everything that goes into creating what is now a hit Instagram photo, and I feel insanely inadequate.
Let's be honest, everyone struggles with loving themselves time to time, even Chrissy Teigen. Despite battling with insecurities, Teigen's Instagram proves that she's still proud of herself and her image, a lesson all of us could take notes on.
As she and John Legend gear up to welcome baby number two into the world, Teigen's strength and fluency in the clap back will serve her well from those pesky internet trolls. She's been extremely honest about her battle with postpartum depression following the birth of her daughter Luna in 2016, a topic that can't be easy to discuss with anyone. In an interview with Refinery29, Teigen talked about the influence of her first pregnancy and how she feels better prepared this time around.
She said,
I'm sure my next one is going to be the complete opposite of Luna. But everyone has their own experience. Luna is really the first baby I have ever been around. So you have to go through your own thing with it, and no matter what happens, no matter how uncomfortable or comfortable you get with a baby, remember that it all changes the next week. If you're feeling safe now, it's going to get a little crazier the next week. If you're feeling crazy now, it's going to get so much better the next week. It makes you prepared for anything.
From viral Instagrams to heartfelt interviews, Chrissy Teigen truly can do no wrong. Never change, Chrissy.