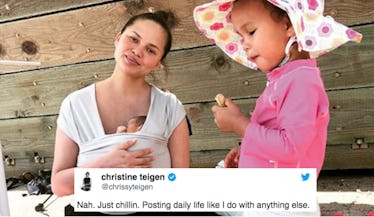 Chrissy Teigen Clapped Back At Trolls Hating On Her Breastfeeding Pics In The Chillest Way
Instagram / Chrissy Teigen
It is endlessly entertaining to me that people think they can discourage Chrissy Teigen from being herself. The latest haters came out after Teigen posted a personal photo breastfeeding her newborn son, Miles. Naysayers think something like breastfeeding is too private to share on social media and accused Teigen of using it for attention. However, Chrissy Teigen's tweet to trolls hating on her breastfeeding photos reminds all of us everywhere she is always going to do whatever she damn well pleases, whether people like it or not.
The photo in question was posted on Instagram over the weekend of July 8 and shows a peaceful Teigen cradling Miles in her left arm and one of daughter Luna's baby dolls in the right. Thanks to the angle, it looks like both Miles and the doll are breastfeeding. Teigen wrote a short, funny caption explaining, "Luna making me feed her babydoll so I guess I have twins now." It's simply a silly caption to accompany a sweet, family moment. Alas, nothing good is sacred, which is why haters felt like the picture was an invitation to tear Teigen down.
THIS IS WHY WE CAN'T HAVE NICE THINGS, PEOPLE.
Here's the picture:
And hereeeee comes the negativity train.
According to JustJared.com, one troll tweeted, "I think it's perfectly fine for women who breastfeed in public. They are doing it because they need to. When you post on social media that you are doing it, it comes across as narcissistic though."
However, the post has since been taken down.
That's probably because Teigen replied directly to the user on Twitter saying, "Nah. Just chillin. Posting daily life like I do with anything else. Cooking, playing with dogs, etc. You make feeding a baby big deal because you got weird t*tty issues."
All hail.
Twitter exploded with appreciation and praise for Teigen, especially other mothers who have been in her literal position before. One user wrote about how breastfeeding is a full-time job and how impressed she was that Teigen found the time to do anything else. Another mom proudly explained she once finished an entire puzzle while breastfeeding her own child. Many others simply showered praise on Teigen's word choice, "t*tty issues," because let's be real... it's the best thing I've ever heard.
This is the magic of Chrissy Teigen.
Supermodel, TV personality, social icon, wife to award-winning singer John Legend, mother-of-two, and somehow still one of the most "normal" people out there. Even though you want to hate her for being so awesome, you just can't.
When it comes to motherhood, Teigen's never held back. She's been an open book about the struggles and changes that come with having children, including her battle with postpartum depression after the arrival of her firstborn, Luna, and IVF. In 2017, Teigen wrote a vulnerable and honest essay for Glamour magazine explaining her journey. In it, she said,
I also just didn't think it could happen to me. I have a great life. I have all the help I could need: John, my mother (who lives with us), a nanny. But postpartum does not discriminate. I couldn't control it. And that's part of the reason it took me so long to speak up: I felt selfish, icky, and weird saying aloud that I'm struggling. Sometimes I still do.
Today, fans are excited and joyful to see her posts about Miles and continue to support her as the matriarch of a growing beautiful family.
Haters, take a lap and come back when you're ready to have a good time with the rest of us.
Check out the entire Gen Why series and other videos on Facebook and the Bustle app across Apple TV, Roku, and Amazon Fire TV.