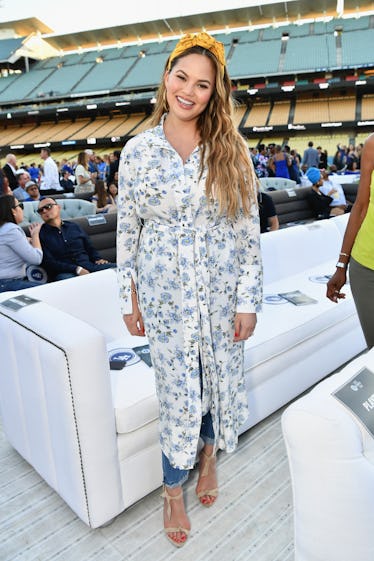 Chrissy Teigen Got Real About Her Journey With IVF After Sharing A Cute Photo Of Baby Miles
Emma McIntyre/Getty Images Entertainment/Getty Images
I love the way Chrissy Teigen uses social media. The model mama is known for keeping it real. Whether she's showing off her stretch marks and milk-soaked bra or just trolling her husband John Legend, she always stays completely relatable and totally hilarious. But the Lip Sync Battle star has also used her posts as a platform to shine light on important issues on occasion, and she just did it again in the comment section of a cute post that featured a photo of her new baby boy, Miles. Chrissy Teigen's comments to a fan about IVF are so encouraging, you guys, and what she had to say is actually so important.
First, Teigen posted a pic of her adorable 5-week-old chilling on a big yellow giraffe print pillow. "Hey Dudes," she wrote. Then, a follower showed up to ask, "I know IVF was used for Luna was it used for baby brother also?"
"Yep," Teigen responded. "He was just on ice a smidge longer, science and the human body are beautiful."
So true! Of course, that didn't stop others from calling out the commenter as rude for even asking the question in the first place. And that's when Teigen rolled up to set the record straight.
"I wasn't offended by it," she explained. "People are just curious and I think hearing success stories gives people hope. I'm all for talking about IVF." Amen, sis!
Teigen's fans were so happy about the star's transparency that they then started praising her for speaking out in the comments.
"Thank you for always being so open about your journey," wrote one follower. "Us felow infertiles salute you!"
"Thank you for shining light on infertility and IVF," added another. "Today I shared your story with hopes to keep the conversation going. The #ivfcommunity thanks you and is inspired by your openness."
And from a third fan: "Thank you for being open about ivf. I was heart broken when I had to start this journey. But after reading your success stories gives me hope. Esp since you have 2 amazing babies....you've helped me w/o even knowing it."
So amazing!
Of course, this isn't the first time Teigen has been candid about her fertility struggles and undergoing IVF. She recently opened up to The Cut about the whole experience back in April. She explained,
It's kind of amazing, because you're like, 'Oh my goodness, I grew up my whole life trying to avoid pregnancy' and hearing stories about people in high school randomly getting pregnant the first time they slept with someone. But IVF makes you really appreciate that, my God, this is a miracle. There are so many different factors that go into being able to conceive a baby. The process really makes you appreciate that.
Teigen also revealed that it's easy to grow resentful of how simple it is for some people to get pregnant. "You're literally mixing your own powders and chemicals to inject into your belly, shoving progesterone up there," she said. "When you go through IVF, it does feel like, 'Oh it's not fair I have to do all this.' Still, it's a complete miracle when it works. Ours didn't work the first time, and it was devastating. It's so easy to try to figure out what you might have done 'wrong' and do the opposite the next time. You just look for anything to blame, especially yourself. I think hearing stories is just really important... There's no right way to do IVF. You just have to keep hoping that it will happen. It's easy for some, and not for others. And that's okay."
Such an important reminder! Chrissy, you are a legit queen! Thanks for being the badass warrior we all need. Never change!