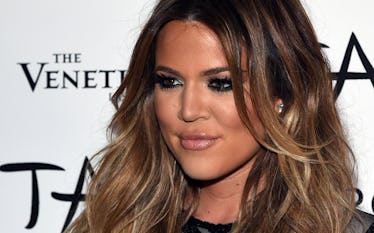 Khloe Kardashian' Made A Major Hair Change & Is Rocking Winter 2018's Top Hair Color Trend
Ethan Miller/Getty Images Entertainment/Getty Images
While Kim and Kylie use wigs and extensions to change up their hair on an almost weekly basis, Khloé Kardasihian, out of all her sisters, tends to play it safe with her styles. While she sometimes switches it up from long to short, the celeb landed on balayaged blonde locks years ago, and has stuck with them ever since. Not expecting her to break consistency anytime soon, I was totally caught off guard when I head about Khloé Kardashian's new platinum blonde hair — and totally excited. White blonde really is the hair color of the moment right now, and I love that Kardashian will be celebrating her first holiday season as a mother in style.
Here's the thing: I've been saying for weeks that winter white blonde is the unofficial hair color of winter 2018. Hilary Duff went platinum just last week, and now that Kardashian has also gone blonde, it's safe to say that this shade is cool mom-approved. Kardashian's colorist, Tracey Cunningham, shared the star's new 'do on her Instagram, and believe me when I say Khloé looks like a whole new woman.
The above video shoes Kardashian really feeling her look, and this one confirms that baby True is a fan, too:
Because Kardashian's starting color for the dye job was a bronde-ish balayage, Cunningham said there was a lot of patience at work while bleaching the separate shades to the perfect platinum. Keep in mind, her natural hair is a dark, dark brown, so the change is truly major.
I hardly remember Kardashian's long raven locks, seen here in 2007:
It wasn't until 2011 that she started experimenting with highlights, allowing herself to enjoy this brassy blonde melt on her lower two thirds:
By 2013, the Khloé Kardashian Ombre was officially established, and I can't explain how many times I tried (and failed) to get my colorist to achieve such beachy perfection on my own strands:
Since then, Khloé's gone a bit blonder year by year (seen here in 2018), but one thing's always stayed the same: her dark roots grounding the look:
There's no denying Kardashian has been through a lot this year, so maybe she was just looking to make a physical change to signify a new chapter in her life? 2019 Khloé will be platinum blonde and fabulous! She's putting good vibes out into the universe, and I'm so here for it. There's nothing more powerful than being happy, especially when you're looking fab while doing it.
Honestly, this is really the first time we've seen Khloé bleached root to tip, and I love how it looks.
At this point, have we seen every member of the Kardashian-Jenner clan go full platinum at one point or another, be it a wig or real? I'm pretty sure the answer is yes. It's not likely, but I'm crossing my fingers that they all take the platinum plunge together and make this year's Christmas card winter white blonde-themed. A girl can dream!