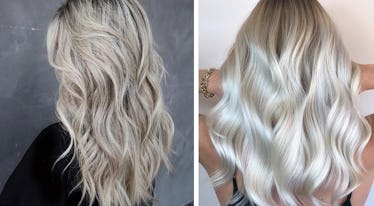 The Winter White Hair Trend Is The Celeb-Approved Blonde Shade Of The Season
Nine Zero One Salon/Instagram; Mimi's Salon/Instagram
As someone with naturally dark hair on a personal mission to go lighter and lighter, I get annoyed at people who stay rigid in the belief that those of us with dye jobs should lean darker in the fall and winter and lighter in the spring and summer. What if I want to be blonde(ish) all year round? Fortunately, some of the top professional hair stylists in the game have de-bunked the myth that blonde is a summer-specific shade — in fact, they've practically copyrighted the winter white hair trend as the look of the season. While I don't see myself channeling Marilyn Monroe or Gwen Stefani vibes anytime in my near future, it seems a ton of celebs have embraced this color trend, and it's a must for icy cool vibes.
I first came across the winter white look on the Nine Zero One Salon's Instagram account. The popular Hollywood-based salon is owned by stylists-to-the-stars Riawna Capri and Nikki Lee, who have taken many a celeb from dark to blonde over the years. The winter white look is a crisp, cool-toned blonde, striking on its own and even cooler with dark roots up top.
In fact, Lee and Capri are responsible for Hilary Duff's new hair color. The duo transformed her dark bronde ombre into a winter white masterpiece just days ago, over what Duff referred to as "a long day."
The results were so worth the time spent bonding with the bleach, though:
"We tagged teamed her color the same as we did when we took Selena platinum, says Lee of Duff's new 'do — and yes, the duo was totally responsible for Gomez's fierce blonde debut:
"She's never been platinum before, and she loves change," said Lee of Duff's dye job. "Winter white compliments her skin tone and gives her a soft edge. This new look makes her look and feel great so soon after having a baby. We think it's stunning!"
Michelle Gonzalez, a hair stylist specializing in hair painting at Mimi's Salon in New Jersey, says it makes sense that so many celebs are gravitating to a white-hot blonde look this season. "Platinum is such a statement shade, so going blonde now is the perfect way to stand out at holiday parties and events," she says. "Plus, white blonde is icy and cool, so even though blonde is traditionally associated with summer, it's totally seasonally-appropriate."
Some musts to maintain your color if you do dare to go winter white? Nikki Lee recommends these three products as essentials: a shower filter to prevent minerals, chlorine and the like from harming your hair, the right purple shampoo, and a nourishing leave-in product. Lee and Capri launched their own filter, the Raindrops Luxe with Rainfall Shower Head ($120, raindrops901.com), and their haircare brand IN COMMON Beauty carries the Magic Myst Universal Elixir ($35, incommonbeauty.com), a leave-in product meant to strengthen hair and repair cuticle damage. Michelle Gonzalez's go-to purple shampoo for blondes is the TIGI Catwalk Fashionista Violet Shampoo ($19, ulta.com).
If Selena Gomez brought white blonde back, Hilary Duff made a case for it as this season's signature shade, and I'm such a fan. Shout out to all the naysayers who told me going lighter wasn't the move for winter — winter white is here to stay, and it couldn't be more fabulous.